It's difficult to make money blogging if no one is reading your blog.  When I first started blogging, I wrote articles, shared them on my social media accounts, and hoped someone would read them.  Only a few people did.
When I finally started strategizing, my page views went up drastically and I started to earn income from my blog.  I've focused on two main approaches: writing guest posts on popular blogs in my niche and improving my Pinterest strategy.
*Disclosure: This post contains affiliate links. Read our full disclosure policy here.
Before I started focusing on Pinterest, only about 5% of my social media traffic was coming from Pinterest…now, more than 90% of it does.
Here are the steps I've followed to explode my page views from Pinterest.
Create stunning pins with Canva.
Use Social Warfare to hide images on blog posts.
Utilize BoardBooster to automate pinning to Pinterest.
Learn how Pinterest works.
Create Stunning Pins with Canva
The first step to winning with Pinterest is to create amazing images.  If you're not a Photoshop whiz (I'm definitely not), check out Canva.  It's free to use and it's so user-friendly that even non-tech savvy people (like me) can use it easily.
First, upload the image you are going to use – I like to use images from Pixabay or Pexels because those are free and there's a good selection.  Pinterest images should ALWAYS be vertical and large (I like using 735×1500 images).
There should also be text overlaying the image.  The most popular Pinterest pins typically include a mix of different fonts (some script).  Black and pink are popular colors for the font.  Your logo or blog name should also be included on the image.
When I first started using Pinterest for my blog, my pins were ugly.  Designing doesn't come naturally to me, but over time, I've experimented and I've learned to improve my pins.
Here are three Pinterest images I created in Canva.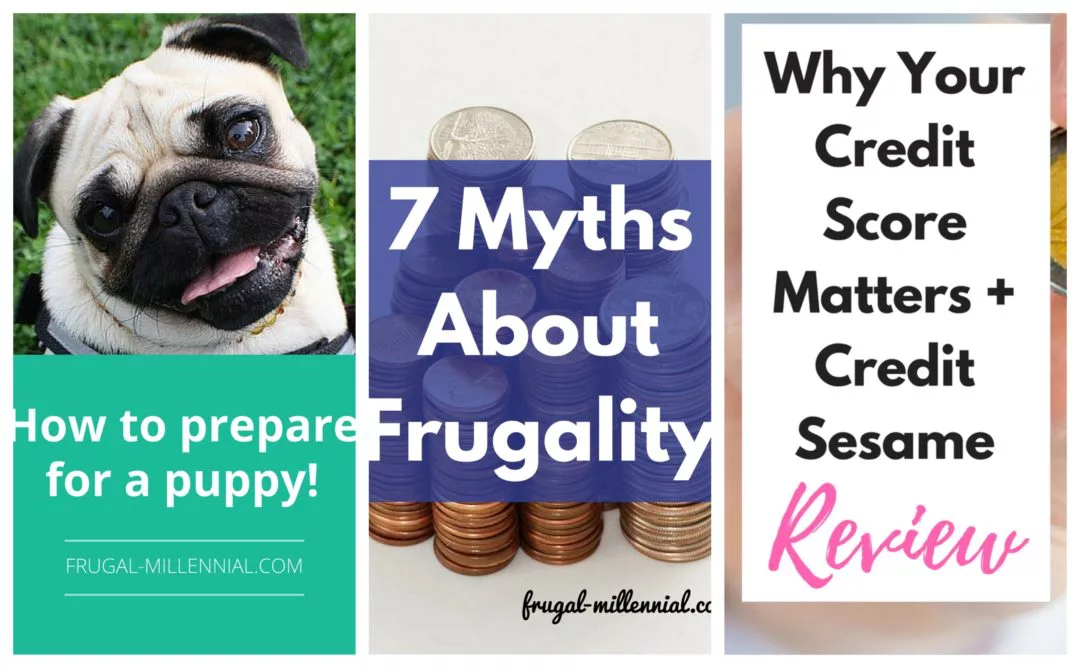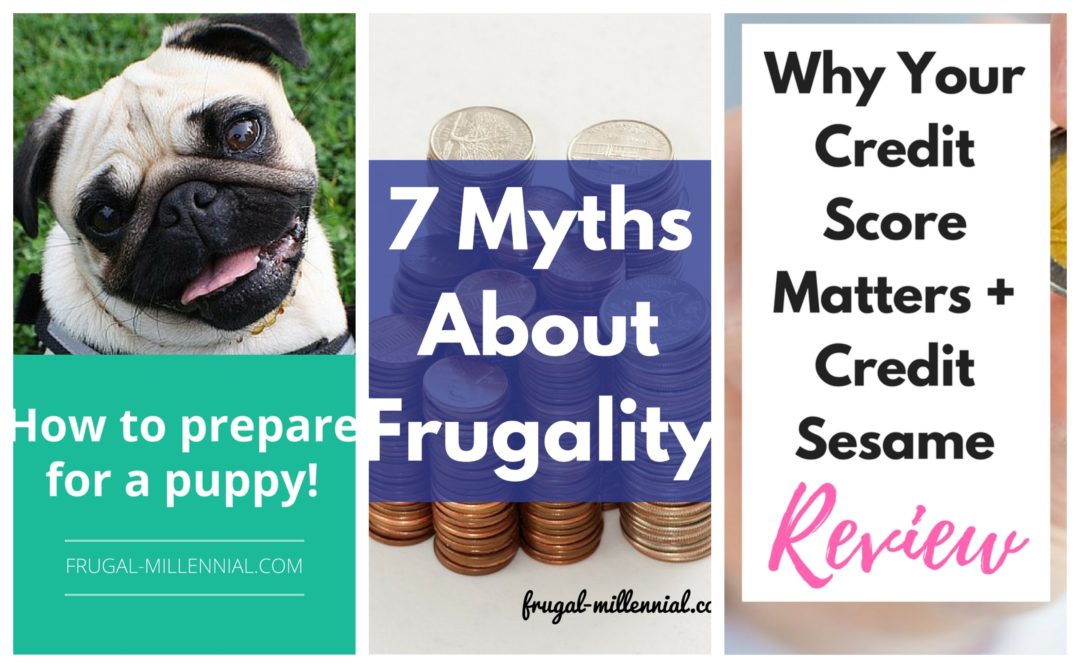 The first pin was created when I first started using Pinterest and it's terrible!
It does not work well because the font is too small and it's difficult to read.  Pinterest users are overwhelmed with thousands upon thousands of pins to look at.  Yours needs to stand out.  They aren't even going to notice a pin with font that's too small to read.
The title also doesn't create curiosity. Is anyone really searching for ways to (financially) prepare for a new puppy?
The second is better because the font is bigger and stands out well. It also creates curiosity because the reader wants to know what these myths are.
The pin still has a lot of room for improvement though.  The blue overlay isn't the most visually appealing option, and pins with a mix of regular and script fonts tend to perform better.
The third pin uses a white overlay and includes a script font with a pink color.  This style performs much better on Pinterest.  The font is also very large which makes the pin hard to miss.  It could still be improved, but it's certainly much better than the first two pins!
To get some ideas for your own pins, scroll through your feed and note which pins stand out.  What is it that makes those pins noticeable?
What do you like about them?  Is it the color?   The font?  The background image?  Experiment with Canva and create some different pins.  See what you like best and what gets the most repins/clicks.
Use Social Warfare to Hide Your Images
Now that you've created an amazing, pin-worthy image, it's time to start pinning!  Once you have the Pinterest image created for a specific article, you need to decide whether or not you want this image to show on your blog.
Some bloggers choose to use the same image for Pinterest that they use as the main image on the relevant blog post.  For others, this doesn't make sense.  For example, my blog layout uses only horizontal images.
Pinterest images need to be vertical, so I don't want to use my Pinterest image as the main image on a blog post.  Instead, I need to find a way to "hide" my Pinterest image in the article so that I can pin the image on Pinterest without it appearing on the actual article.
It used to be possible to do this by "hiding" an image in the website code, but lately WordPress has been finicky about this and it hasn't been working for many bloggers, including me.
Another way to "hide" your Pinterest image is with the Social Warfare plugin.  I started using this recently and love it!  When you add this plugin, there will be a spot near the bottom of your blog post draft that reads "insert your image for Pinterest here".
All you need to do is insert it and you're good to go.  Then, use Social Warfare's social media buttons to pin the image to Pinterest.
It's so easy to use and it's made my Pinterest process so much simpler!  Social Warfare has an annual cost of $29, which is a little over $2/month.  It's a small price to pay for something that is definitely worth it.
Utilize BoardBooster to Automate Pinning
Managing your Pinterest strategy can become very time-consuming, but BoardBooster manages all of that for you!
It's important to post to group boards in your niche, and BoardBooster automates this for you.  It also allows you to clean up your boards and gives you stats to help you analyze what's working and what isn't.
It's $5/month, but it's well worth it.  If you become an affiliate for BoardBooster, you have the opportunity to earn $5 for every person who signs up for it through your link.  This means that you could break even (pay nothing for BoardBooster) or even earn money through using BoardBooster!
Learn How Pinterest Works
Creating stunning Pinterest pins is awesome, but what if no one ever sees them?
You need your pins to appear near the top of users' feeds, where they are most likely to see them and click on them.  Pinterest decides which pins to put on top based on a few different factors.
The algorithms are complex and often changing, but here are a few important things to know:
Pinterest is a search engine (Iike Google) and SEO matters.
Pinterest wants to show the best content. It hates spammers and any suspicious activity (pinning too much or too infrequently, mass following or unfollowing) can get your account flagged.
Popularity matters, but content is crucial too.
I recently finished the amazing course Pinterest Traffic Avalanche and it has helped me so much!  There was a lot I didn't know about how Pinterest works.  PTA is taught by Lauren and Alex, the creators of two hugely successful websites, Avocadu and Create and Go.
Lauren and Alex used Pinterest to explode Avocadu's traffic and they turned their blog into a six figure business.  They both quit their day jobs to blog full-time and now run two successful businesses.
Pinterest Traffic Avalanche is extremely thorough (it's definitely the best blogging class I've taken) and walks you through:
Setting up your account as a business and optimizing your profile for SEO
How to avoid "Pinterest jail"
How to create viral pins using Canva
Pinterest SEO
How to use group boards to expand your reach
I'm extremely frugal, so I only take a blogging course if I know I'm going to see a huge ROI for my blog.  Pinterest Traffic Avalanche was definitely worth it!  Sign up for the class today to explode your Pinterest traffic!
Explode Blog Traffic with Pinterest
My page views from Pinterest have drastically increased since I implemented my Pinterest strategy, which includes:
Creating awesome images in Canva.
Using Social Warfare to hide the images on my blog posts.
Utilizing BoardBooster to automate pinning, manage campaigns, and analyze pinning statistics.
Learning more about how Pinterest works (to ensure your pins are seen).