I started using the Dave Ramsey's cash envelope system for budgeting recently, and it's a game changer!
I love anything that makes life a little simpler, and cash envelopes make budgeting SO easy.
*Disclosure: This post may contain affiliate links. Read our full disclosure policy here.
If you aren't familiar with this system, here's how it works:
Create a budget.  Need some help?  Check out our budgeting bundle which walks you through exactly how to set up a budget!
Choose your cash envelope categories.  These will be expenses that are variable.  For example, you don't want to include your mortgage, cell phone payment, or any other fixed bills that are probably automatically withdrawn from your checking account anyway.
Once you've selected your categories, get some envelopes and label them.
Put cash (enough for one month) in the envelopes for each category.
Once you run out of cash in a particular envelope, you're done with spending on that category for the month!
Decide what to do with any cash leftover in your envelopes at the end of the month (you might put this into savings, use it to pay off debt, or spend it on something fun…whatever you choose!)
This list will give you 50 ideas for your cash envelope categories.  But, obviously, you don't want to have 50 separate envelopes…that would be a big mess!
I'd recommend using 5-15 envelopes to keep it simple.
I personally use six envelopes.  Mine are:
Fast food
Groceries
Household items (medical, toiletries, paper products, cleaning, etc.)
Date night
Outings with friends
Fun spending money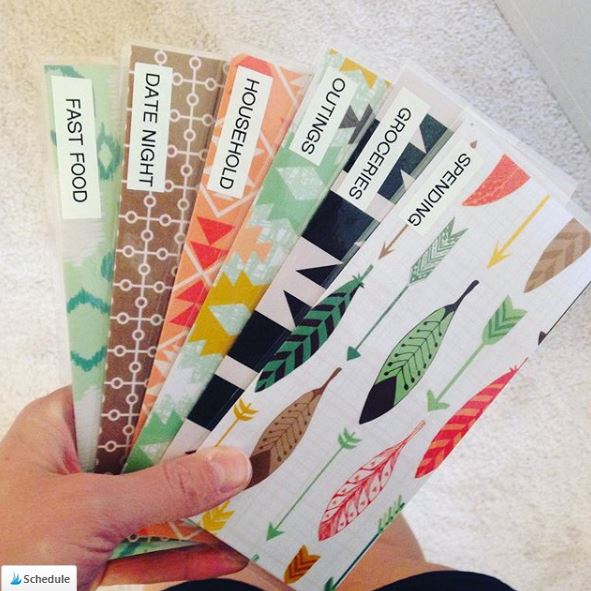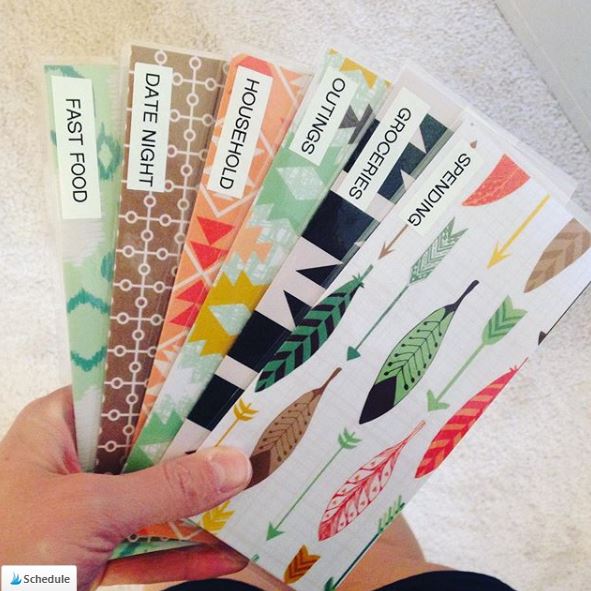 I'm giving you a list of 50 so you can get plenty of ideas for your own envelopes because there are a ton of different options!
How specific (or broad) your categories are is totally up to you.  Do whatever makes the most for your situation.  If you buy Starbucks every day, for example, it might make sense to have a "coffee" envelope.
I buy Starbucks only occasionally, so I take Starbucks purchases from my "fast food" envelope.  This works for me.  Do what works for you!
Here are 50 ideas for your cash envelopes!
Food
Groceries
Restaurants
Food at work
Entertainment
Sports
Movies
Outings with friends
Outings with family
Date nights
Starbucks
Alcohol
Pet stuff
Kid stuff
Kids' allowance
Kids' toys
Kids' clothes
Happy hours
Books
Shoes
Accessories
Gardening items
Yard maintenance
Car maintenance
Household items
Cleaning products
Tools
Home Depot
Spouse 1 – spending
Spouse 2 – spending
Hobbies
Craft supplies
Organizing supplies <<—- maybe I need to add an envelope for this one ;)
Home decor
Clothes
Beauty
Toiletries
Massages
Salon
Road trip
Projects
Travel
Technology
Blow
Photography
Fun
Replacement items
Gifts
Giving
Miscellaneous
Want some extra cash to put in your envelopes?
Check out these FREE apps and resources that allow you to earn cash back just for buying things you were already going to buy anyway!
IBOTTA
Ibotta – Ibotta is a free app that allows users to earn cash back on everyday purchases at hundreds of different stores, including Target, Wal-mart, and grocery stores. I love earning cash back just for buying groceries!
Who doesn't love free money?!
Download Ibotta with my link and you'll receive a FREE $10 welcome bonus once you start redeeming cash back offers! Check out my guide on how to use Ibotta to maximize your cash back.
RAKUTEN
Rakuten (formerly called Ebates) – Rakuten is a free website that gives users the ability to earn cash back on online purchases.  Rakuten includes cash back offers at hundreds of different stores, including Amazon, Groupon, Target, Sephora, and Hotels.com.
Whenever I'm going to purchase anything online (which I've been doing A LOT of lately during the pandemic!), I check Rakuten first to see if I can earn cash back.
Sign up for Rakuten with my link and you'll receive a free $10 bonus once you spend at least $25! How awesome is that? Check out my guide on how to use Rakuten to get the most bang for your buck!