Since the hubby and I are trying to pay off our remaining $47,000 of student loan debt by the end of this year, I'm always looking for easy ways to earn a little extra money.
We need to be super frugal while we pay off the debt and that means we don't get to treat ourselves.
That's why I love getting gift cards – it's a way to spend money on fun stuff without feeling guilty.  The free Shopkick app allows users to earn gift cards without necessarily spending any money.
*Disclosure: This post contains affiliate links. Read our full disclosure policy here.
Users earn "kicks" (points) for completing simple tasks. How much time do we all spend on our phones anyway? We might as well spend that time doing something useful.
How to Use Shopkick
To use Shopkick to earn gift cards, follow the simple steps below.
Download the free app with this link or use referral code WIN505358 to receive 250 free "kicks".
Enter your cell phone number so you can receive a one-time text message with a link to the app.
Select the area where you'll be doing your shopping (you can change this later if you want to shop in a different area).
Start earning kicks.
Redeem your kicks for the gift card of your choice.
Getting Started
First, download the app with this link so that you can receive 250 free "kicks".  Next, enter the area where you do most of your shopping.
Now you can start earning kicks! There are a few different ways to earn kicks.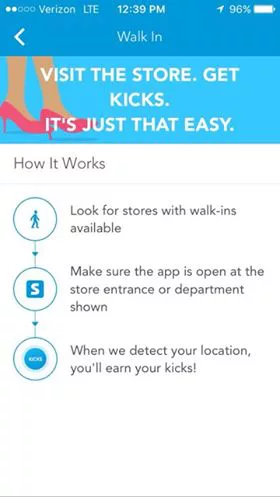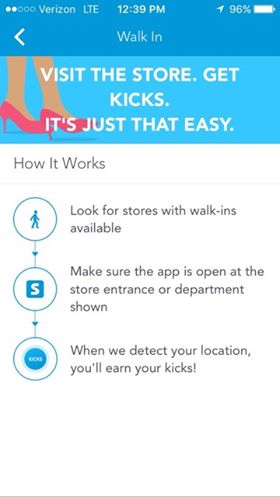 Earning Kicks
You can earn kicks by simply walking into stores (without spending a dime!), scanning product bar codes in stores, making purchases, submitting your receipt, and/or inviting friends to download the app.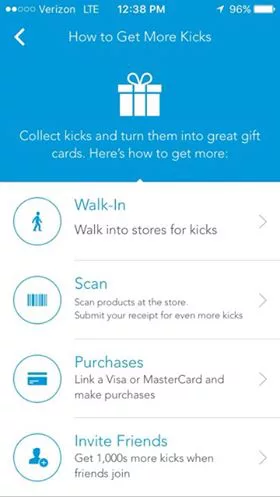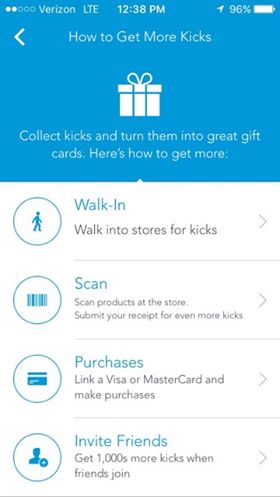 Choose Your Reward
Your kicks can be redeemed for gift cards, physical items, or donations.  Some of the gift cards available include Target, Amazon, Starbucks, Walmart. Each item has a designated number of kicks that you need to have before you can purchase the item.
Do you use any other apps to save money or earn gift cards?
Other stuff you might like:
Ebates Review: How to Earn Cash Back for Online Shopping
7 Ways to Make Money Blogging
Ibotta App Review: How to Earn Cash Back for Everyday Shopping
10 Ways to Save Money on Groceries