Do you spend too much money on food?
Groceries seem to be one of the most common budget busters for many people.  We can cut back on so many other items in our budget, but we have to buy food.
When you're trying to eat a healthy diet, it can be particularly tough to avoid overspending.
*Disclosure: This post contains affiliate links.  Read our full disclosure policy here.
I used to spend about $120 a week ($600/month!) on groceries – and that's just for myself!  I tried to justify it to myself by saying that people who spend less on groceries must be buying mostly processed junk food.
I'm so frugal in every other area of my life, so what's the big deal if I spend extra on food, right?
After reading some other blog posts about grocery spending, I realized that is entirely possible to stick to a strict food budget and still eat a super healthy diet.
Here are the exact steps I've taken to cut my grocery bill in half – with numbers!
This screenshot below shows what I used to spend on groceries vs. what I spend now.  Disclaimer: these are NOT exact numbers and the amount we spend varies from week to week.
These are estimates.  For the sake of simplicity, the numbers only include my groceries (my husband's are not included).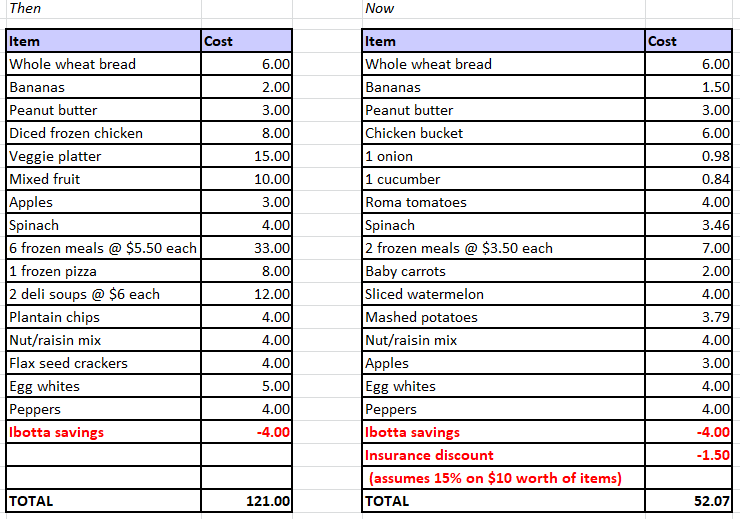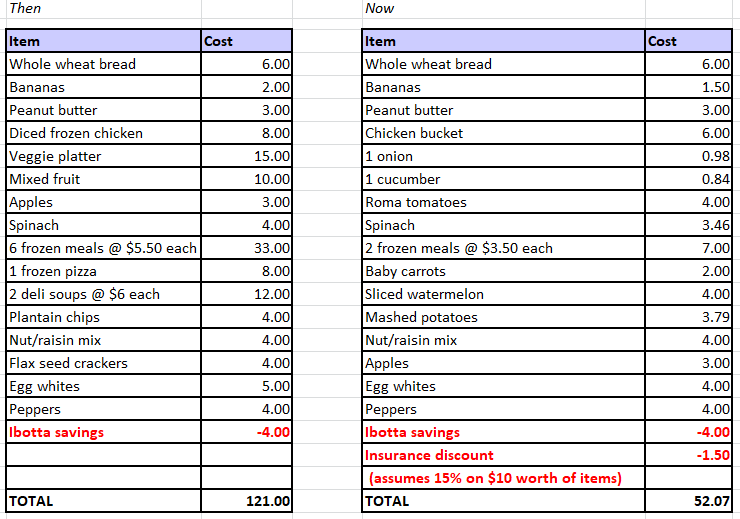 To reduce my spending, I followed these five steps.
Find a Cheaper Store
I wasn't shopping at Whole Foods or any other super expensive stores, but I wasn't using the cheapest option either.
I recently started shopping at Walmart.  I had low expectations, but I've been pleasantly surprised by the quality of the food so far.  The prices are also dirt cheap!
I can't find everything I want to buy at Walmart, so I buy about 70% of my groceries there and 30% at a different (reasonably priced) store.
Of all the things I've done to cut back on my grocery spending, switching to Walmart has made the biggest difference. Start shopping at Walmart with my link and you'll receive a free $10!
Cut the Crap
I hate cooking, so I prefer to buy microwaveable meals and prepackaged items.  These are more convenient but also crazy expensive!
To lower the cost of my groceries, I decided to have frozen dinners twice per week instead of 6-7 days each week.
Instead, I'll be relying on chicken, potatoes, and eggs for dinner.  These items are much less expensive and they're easy to prepare.
I certainly don't need to cook a complicated, time-consuming meal in order to save money – I can easily make scrambled eggs or an omelet in just a few minutes.
Discounts
Another reason why I started shopping at Walmart is because my health insurance company offers a discount on certain Walmart groceries.
The discount is anywhere from 5% to 25% (it varies each month) and it applies to certain foods like fresh produce, 100% natural juice, and other healthy items.
Many insurance companies offer similar programs because it helps them to reduce costs (healthier people go to the doctor less often).
If you're not sure whether or not your insurance company offers anything like that, call them and find out!  Your HR department at work may be able to provide some information too.
Money Saving Apps
In addition to my Walmart discount, I also started using the Ibotta app recently and I love it so far!  Ibotta is free to use and it's very user-friendly.  I've only been using it for a short time, and I've already earned $37.25!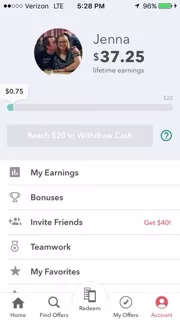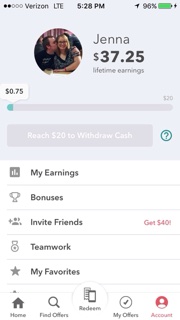 I love being rewarded for buying things I was going to buy anyway.  Download the Ibotta app today and get a free $10 welcome bonus when you start redeeming cash back offers.
Related Post: Ibotta App Review: How to Earn Cash Back for Everyday Shopping
Use Your Freezer
I used to throw away bread every week until I started keeping it in the freezer.
Now, I just pop it in the microwave for 30 seconds when I'm ready to eat it and I don't need to waste a bunch of food.  Surprisingly, there are A LOT of foods that keep well in the freezer.
Not sure if a certain food can be frozen?  Stephanie of Six Figures Under compiled a list of foods that can be frozen.
Cut Your Grocery Bill in Half
Reducing your grocery spending might seem tough at times, but it can be done!
You could try switching to a cheap store like Walmart, cutting back on microwaveable meals and prepared items, using discounts and apps, and utilizing your freezer.
What do you do to spend less on groceries?
Ready to take control of your finances?
Download my free guide to setting up a budget and read the personal finance book that changed my life: The Total Money Makeover.

Other stuff you might like:
How to Eat Clean on a Tight Budget
5 Movies that Will Make You Rethink Your Diet
How to Stick With Clean Eating (When You Want to Give Up)
10 Ways to Save Money on Groceries
How I Lost 35 Pounds by Changing My Diet