If you're new here, I post an update every couple of months that details how we're doing on our debt payoff and other goals. I also include some highlights of the months and what I've been reading and watching…because life is about more than just reaching goals.
As a Type A person (with debt), I easily get caught up in trying to be productive all the time. It's important to relax once in a while 🙂
*This post contains affiliate links. Read our full disclosure policy here.
Overall, May and June were a couple of great months!  The hubby and I were both able to make progress on our debt snowball, my blogging page views reached an all-time high, and we've been able to enjoy this gorgeous summer weather.
Frugal Updates
–Debt payoff: I put $1,600 extra toward my loans in May and $1,300 extra in June.  The hubby put $750 toward savings and $1,150 extra toward his loans in May.  He was hoping to do more in June but he had to get the brakes on his smart car replaced which was expensive.  We started with $117,000 of student loan debt and we're down to $64,000!! :)
When I first started paying on my loans, my payment was about $860/month but I've paid down my balance enough that the minimum payment has decreased to $515…which frees up more money to put toward extra payments.  This is how the debt snowball works.
–Blogging: In June, my page views were higher than ever!  I've been really focusing on Pinterest lately which seems to be making a huge difference!  Thanks to Boardbooster and the Social Warfare plugin, my page views from Pinterest have skyrocketed.  (I plan to share a post with some more specific details about my Pinterest strategy soon – stay tuned!)
I'm hoping to increase my traffic as much as possible so that I can also increase my blogging income (which goes straight to my student loans).  If you're interested in starting your own money making blog, I created a free step-by-step guide that walks you through exactly how to set up a blog.
-Frugality:  I've been attending free holy yoga classes once per week for the past year or so, but recently I decided to start going three times each week.  It was tough to motivate myself to do this at first, but I'm glad I've been going more often.
Yoga helps a lot with my anxiety and my chronic neck/shoulder pain.  Some of my muscles in my neck are very tight and others are weak.  Yoga does a great job of both strengthening and stretching muscles.  And holy yoga classes are free!  Over the past couple years, I've found numerous ways to do yoga for free.
–Spending ban: I did a decent job of sticking with my spending ban for the most part.  If you're new here, I'm currently on a three year spending ban while the hubby and I pay off $117k of student loan debt as quickly as we can.  Frugality comes naturally to me, but I slipped up a little in March/April.
I'm an abstainer, which means that I find it easier to give up something completely rather than indulging once in a while…the more I "cheat" on my spending ban (or my diet), the more I'm tempted to continue cheating.  In May and June, I made an effort to stick with my strict diet and spending habits.  It went well for the most part :)
Highlights of the Months
We went to a few animal-related events (the Walk for Animals, a pug meetup, and a baby farm animal event) which were all a lot of fun!  We also spent plenty of time enjoying the lovely weather and checking out some new places.
Even though we aren't really able to travel while we're paying off our debt as quickly as we can, there are plenty of beautiful places all around us.  My goal for the rest of this summer is to appreciate this more and spend more time doing photography.  It's something that I love but I haven't been making time for it much over the past several months and I miss it.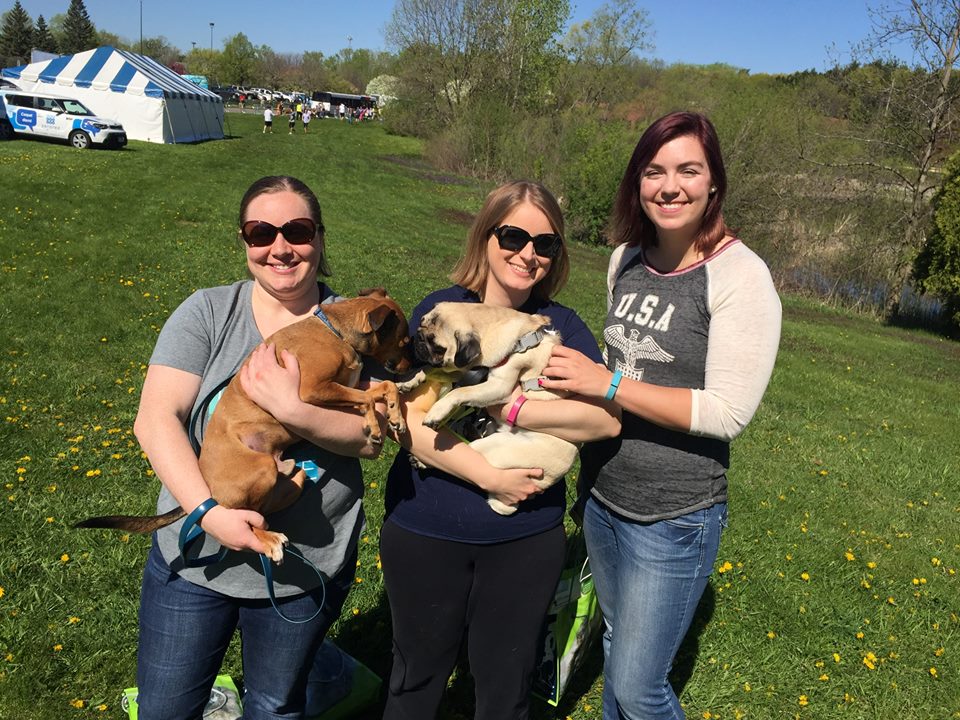 What I Watched
I finished New Girl (3 stars, a decent comedy about a 20 something woman who lives with four guys), started Life Unexpected (4 stars, a somewhat predictable but still lovable drama about a 16 year old foster kid who is reunited with her birth parents), and watched the new seasons of…
–Switched at Birth (4 stars) – a drama about two teenagers who find out they were accidentally switched at birth
–The Fosters (4.5 stars) – a family drama about a lesbian couple and their brood of biological, adopted, and foster children
–Unbreakable Kimmy Schmidt (4 stars) – a hilarious comedy about a woman who was held captive by a cult leader for years and has no idea how to act in the "real" world
–How to Get Away With Murder (5 stars) – a drama about a criminal law professor, her interns, and the mess they find themselves in
–Orange is the New Black (5 stars) – a drama about a woman who is sent to prison for a drug-related crime she committed years ago
*Note: these ratings are based on my completely subjective opinion.
In Case You Missed It
7 Reasons Why I Drive a 17 Year Old Car
30 Starbucks Copycat Recipes
How to Stop Caring What Other People Think
Let's Talk About Privilege
How is your summer going?
Other stuff you might like:
My Personal Finance "Aha" Moment
How We're Preparing Financially for a Pug Puppy
Why I'm Grateful for My Student Loan Debt
The Appeal of Minimalism
9 Ways to Get Free Yoga Classes
Personal Finance Resources:
The Total Money Makeover by Dave Ramsey
YOLO: The Roadmap to Financial Wellness and a Purposeful Life by Jason Vitug
Smart Women Finish Rich by David Bach
It's Only Money and It Does Grow on Trees by Cara MacMillan
Blogging Resources:
How to Blog for Profit Without Selling Your Soul by Ruth Soukup
365 Blog Topic Ideas for the Lifestyle Blogger Who Has Nothing to Write About by Dana Fox
Secrets to Blogging Your Way to a Six Figure Income by ProBlogger