Blogging has changed my life in so many ways.  I've made friends that I never would have met if it weren't for my blog.  I've earned extra money that I've been able to put toward the debt snowball on my student loans (we've paid off over $80,000 of debt so far!).
I've discovered a passion for writing about personal finance.  When I first started blogging, I wasn't sure if I would enjoy it.  It's funny because now I can't imagine my life without blogging.
If you're thinking about starting a blog, I highly recommend trying it out.  It might seem a little intimidating at first, so that's why I've broken down exactly how to create a blog in five simple steps below.
*Disclosure: This post contains affiliate links.  I only promote products and services that I have thoroughly vetted or used personally.
1. Choose a topic.
What do you want to write about?  What are you most passionate about?  What are you knowledgeable about?  What do you know that others might not know?  You can write about a variety of topics, but there should be an overarching theme that brings the different subjects together.
For example, your theme could be frugality, DIY, or minimalism.  I cover a wide range of topics on my blog – but my theme is frugality.
Keep in mind that what you want to write about may change over time.  Also, don't write about something just because it's a topic that others are writing about.  When I first started my blog, I tried to include recipe posts, and it didn't go very well.
I hate cooking and I share a tiny kitchen with four other people.  Not a good idea.  Write about what you know.  I don't know how to cook, but I do know how to find free yoga classes and how to save money on puppy-related expenses.
2. Select your hosting service.
I highly recommend Bluehost for your hosting services because their packages are affordable and their customer service is excellent.  If you sign up through my link, you will receive the lowest price possible at just $3.95 per month.  There are higher priced options that you can select if needed, but I suggest starting with the cheapest option.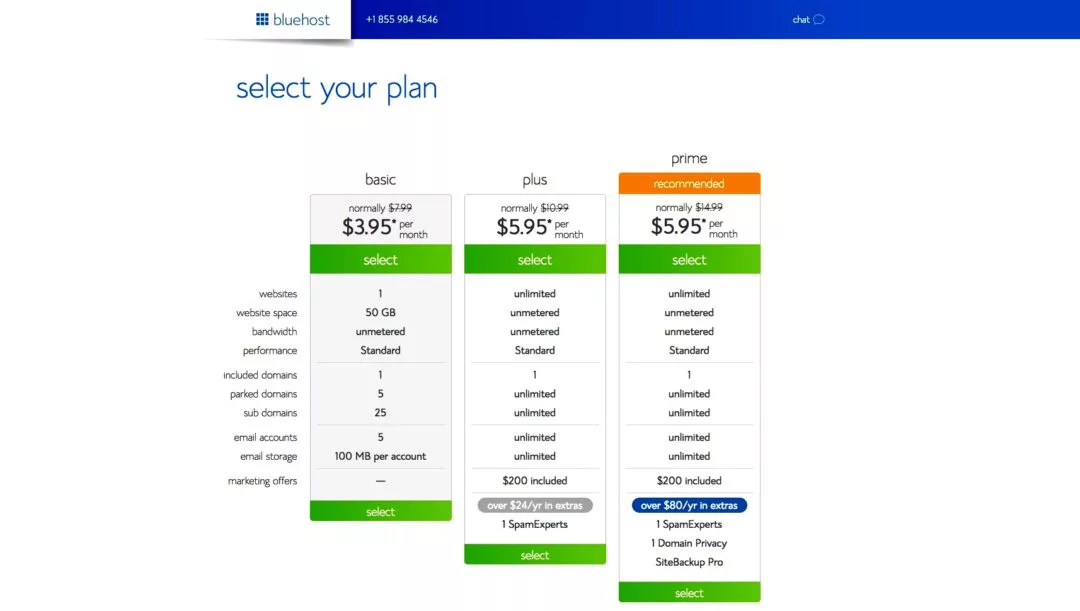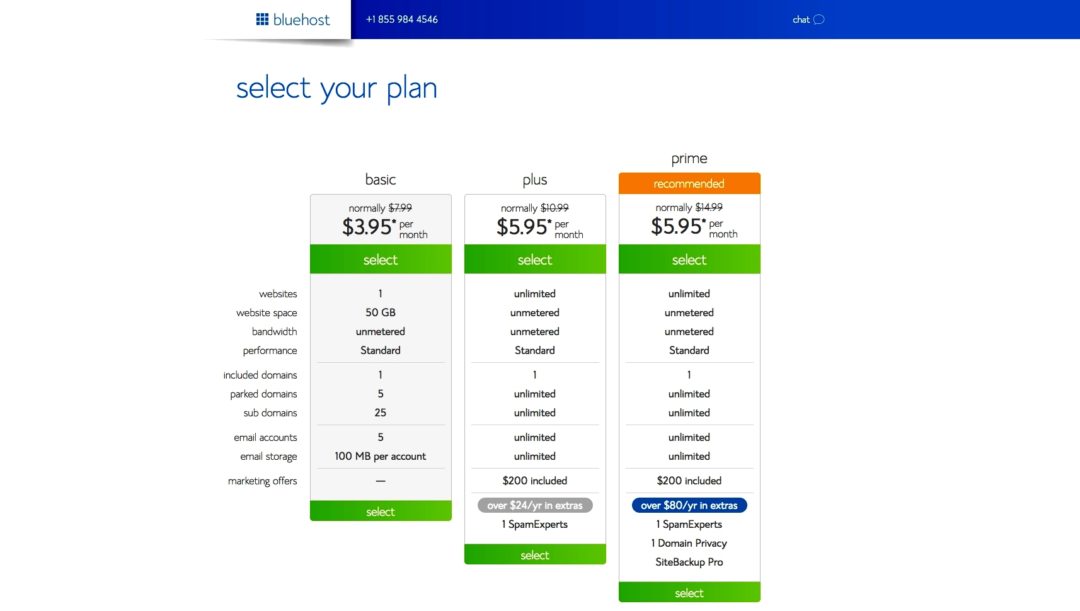 If you decide that blogging isn't for you within the first 30 days, Bluehost will give you a full refund.  If you change your mind about blogging anytime within the next 36 months, you will receive a refund for any months that you don't use.
You have nothing to lose and it's worth giving it a shot!
3. Choose your domain name.
If you sign up for Bluehost using my link, you receive a FREE domain name (this is a $15 value).  Once you select your hosting package (from step one), you will be brought to a screen where you can enter your domain name.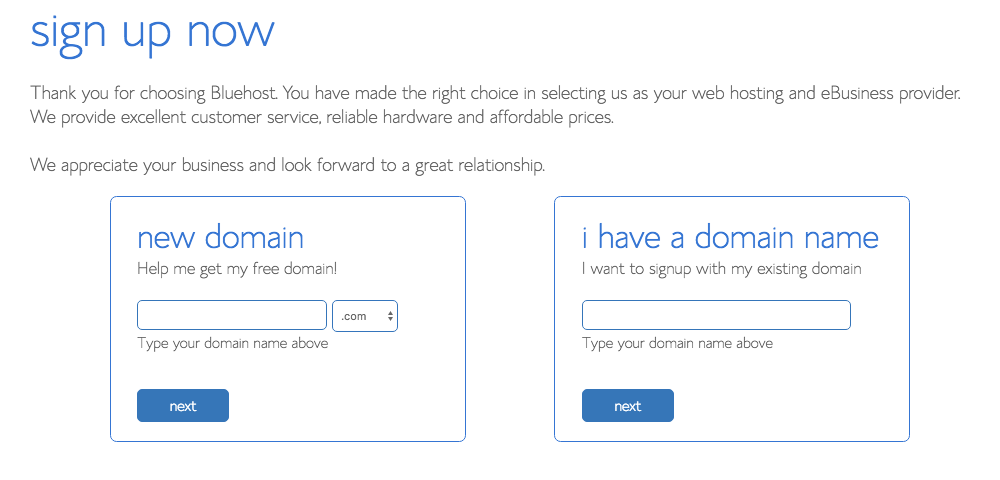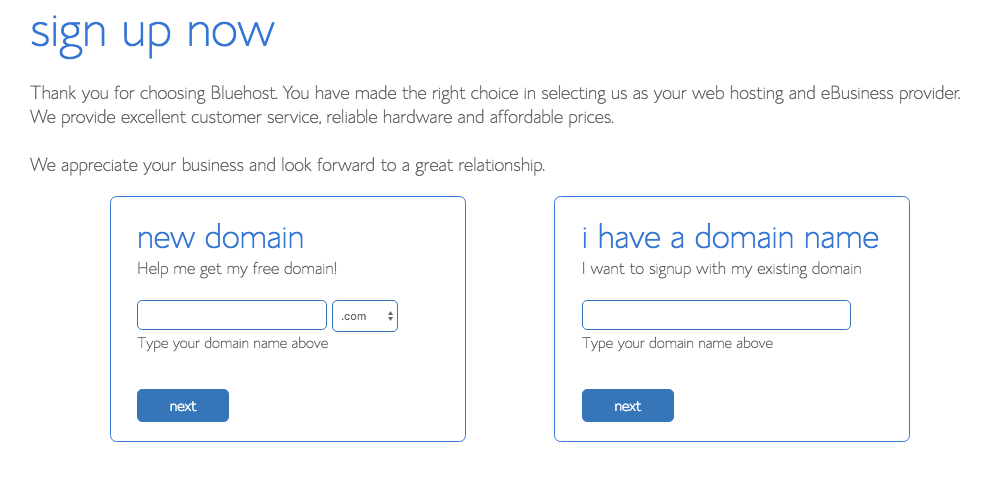 When choosing a domain name, make sure to pick something unique, easy to remember, and fairly short.  The name should align with the topic of your blog.  "Frugal Millennial" explains what my blog is about in just two words.
I write about frugality, saving money, and topics that are particularly relevant to millennials – such as student loans and planning a wedding on a shoestring budget.
4. Pick a theme.
Once you have signed up for Bluehost, select your theme.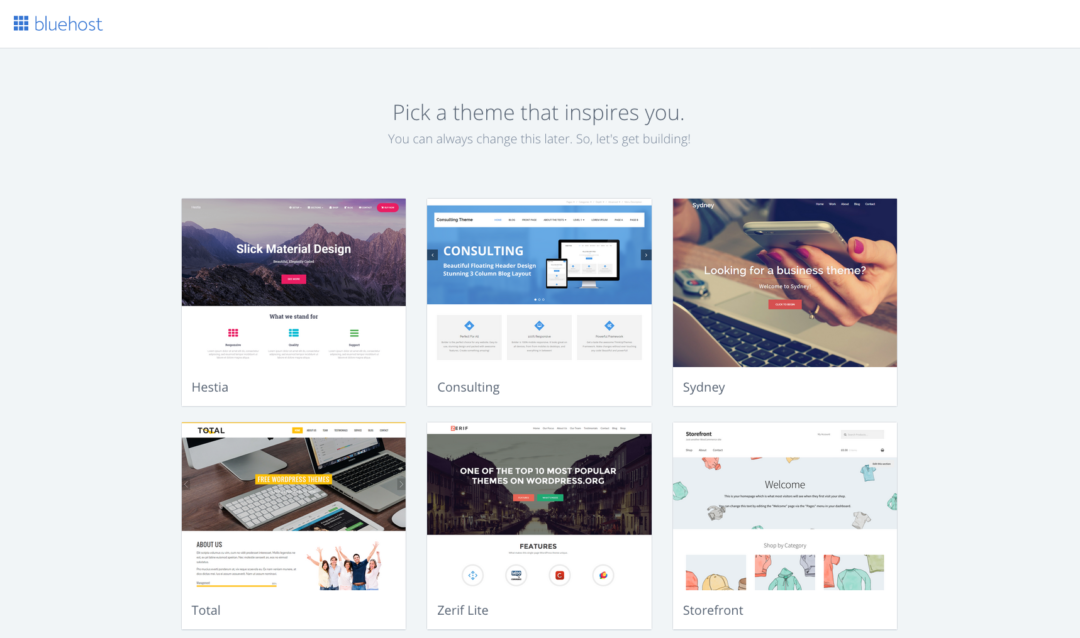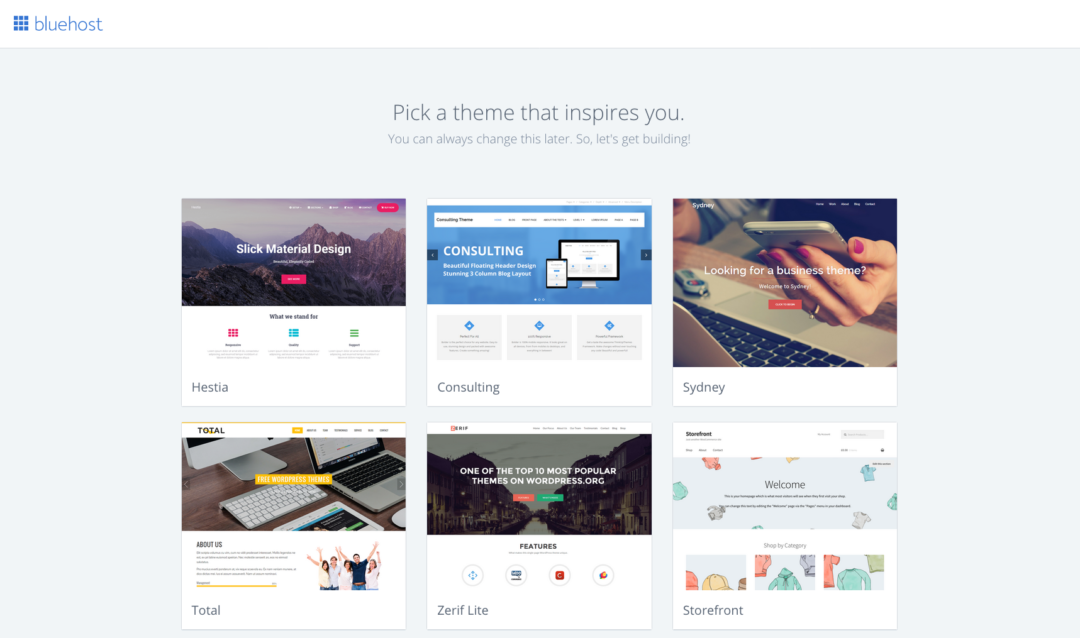 Now that you've signed up for Bluehost, WordPress is automatically installed for you.  Super easy!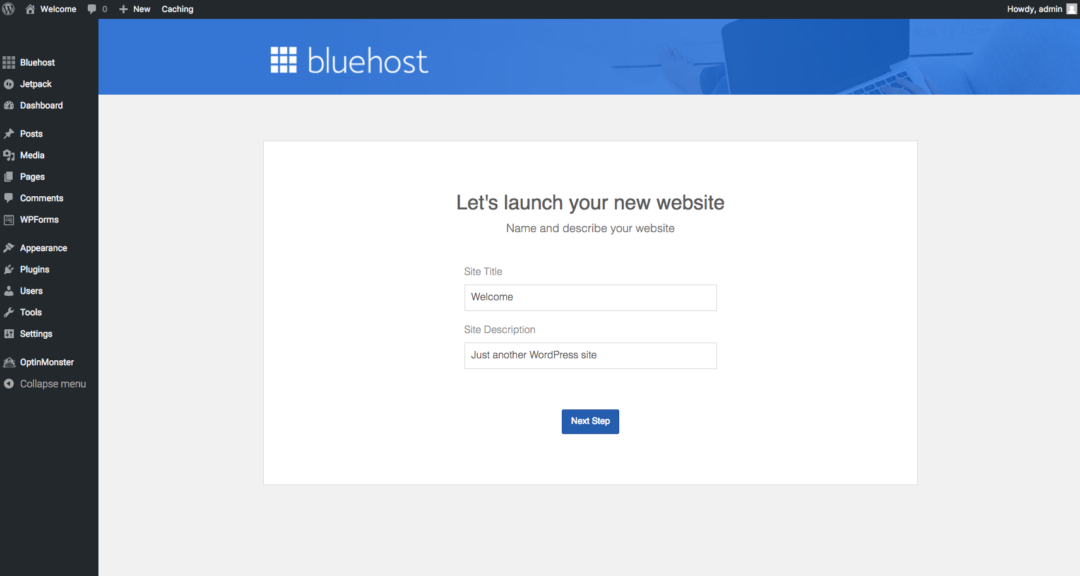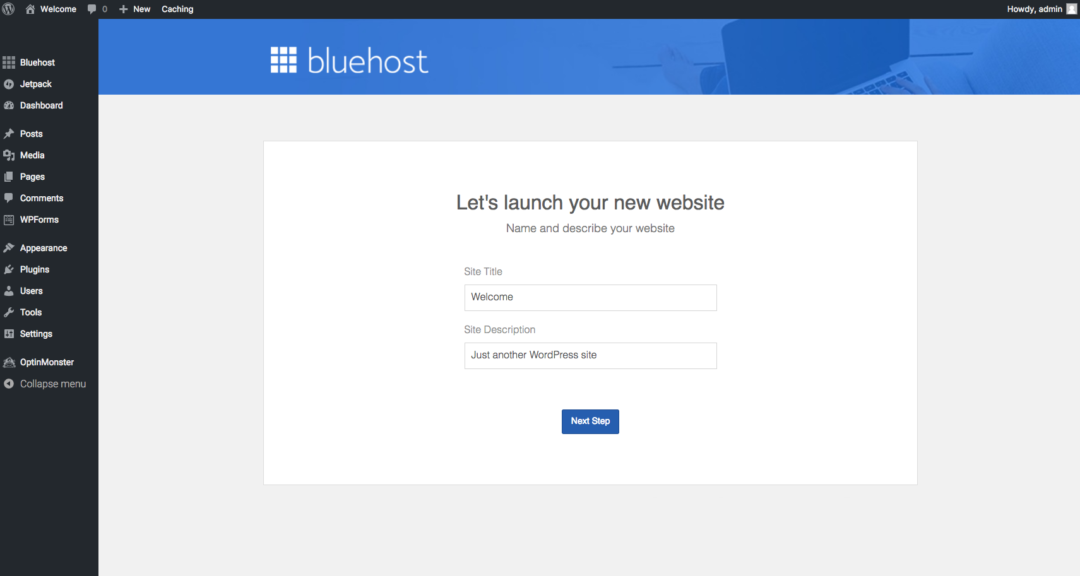 5. Start blogging!
To login to your WordPress blog, go to your domain name and add /wp-admin.  Next, enter your username and password.  Once you start posting articles, publish compelling content consistently.
You don't need to post every day or even every week, but try to post often (most bloggers recommend posting at least 1-2 times per month).  I usually post once a week.
Now that you've created your blog, here are some tips for beginners!
Focus on Photos
Even if your content is amazing, readers aren't going to stick around for long if your site is visually unappealing.  There are thousands of others lifestyle blogs that they can read…they'll choose yours if your site is visually enticing.
Poor quality photos are a major turnoff.  Try to improve your photography skills or get awesome (free) stock photos from websites like Pixabay.
Keep it Simple
If your layout is confusing or difficult to use, readers may become frustrated.  Keep your layout simple and free from too many distracting ads or buttons.
Keep your articles organized in categories that are logical and user-friendly.  Make sure to include a "search" bar so that readers can search for the specific topic that they're looking for.
Network
Connecting with other bloggers has been one of the most enjoyable aspects of blogging for me.  I've made new friends and I've learned so much from others who have been blogging for much longer than I have.
There are numerous ways to reach out to network with other bloggers – comment on their posts, follow them on social media, attend conferences, or email them!
Plan Ahead
Plan your articles in advance instead of writing them on the fly.  This helps when you find yourself too busy to write.  If you're say, a month ahead on blog posts, you can relax if something comes up and you just don't have the time to write.
This way, you can still post regularly even when you don't have time to write articles.  I like to write my posts on the weekends (and I'm currently a few months ahead on blog posts) and save drafts of them in WordPress.
When I post an article during the week (when I'm busy with my day job), all I need to do is hit "publish" and share my article on my social media sites.  Planning ahead makes balancing work, life, and blogging much simpler!
Do Your Research
There is some great information out there about how to increase your blog traffic and how to make money blogging.  I highly recommend reading some articles about these two topics, taking some classes, or reading books on these subjects.
How to Blog for Profit Without Selling Your Soul, by Ruth Soukup of Living Well Spending Less, is an amazing resource for all bloggers – whether you're brand-new to blogging or have been blogging for a while.
I read Ruth's book when I was fairly new to blogging and I was only getting about 200 page views each month.  After reading her book, my traffic climbed to over 20,000 views per month.
Are you considering starting a blog?  Is there anything that has held you back from starting a blog?
*Disclosure: This post contains affiliate links.  If you sign up for Bluehost through my link, I will receive a small commission and you will receive the lowest hosting price possible.  It's a win-win!
Other stuff you might like:
3 Reasons to Find an Online Side Hustle
How to Take Your Blog Traffic From 200 Page Views/Month to 20,000+
My Personal Finance "Aha" Moment
The Path to Financial Freedom Isn't a Straight Line
2016: Planning Your Best Year Ever