One of the biggest challenges that millennials face is finding a full-time job after graduating from college.  Many graduates have limited (if any) work experience in their chosen field, and they are often buried in student loan debt.
Liberal arts grads may know all about Pythagorean theorems, ancient philosophers, and Maslow's hierarchy of needs…
But many of them don't know the first thing about how to land a job that pays well enough to be able to afford those horrific student loan payments.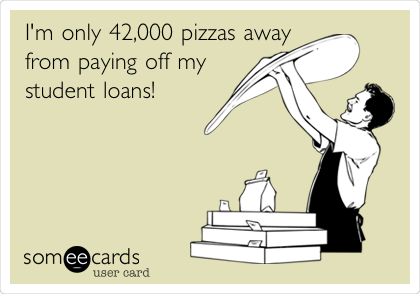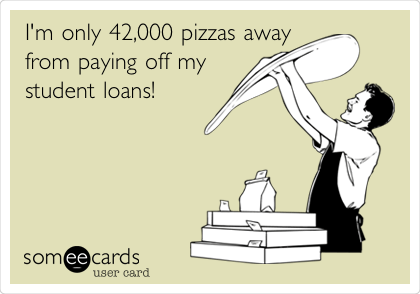 Luckily, I work in HR, which means I have access to the inside scoop from HR professionals and recruiters.  I asked 10 HR pros for their best advice job searching.  Here's what they said.
"Create a strong LinkedIn profile, volunteer in the field you want to find a job in, be geographically mobile, and network."
–Shannon, HR Manager
"Don't take rejection personally. Keep applying. You'll probably have to apply to 20-30 jobs before you get a few interviews and have [at least] 3-5 interviews before you land a job. (And not necessarily your dream job either but an adequate one)."
–Megan, HR Specialist
"Keep an open mind and be willing to step out of what you consider to be your comfort zone. I've seen people be very picky about different career aspects – e.g. functions, company names, compensation etc. Know that the likelihood of the first job becoming your long-term job will be very low. So focus on the learning and skills you'll get in order to keep yourself competent in your (continued) career… keep yourself fungible (across industry/company) in the job market."
–Jinny, Talent Management Specialist
"Research the company and network with the people who work for that company. Send introduction e-mails, set-up meetings with that person to learn about the company, the position, the business needs, and the organizational culture. Lastly, I would say don't give up and don't get discouraged by rejection."
–Ashley, HR Representative
"Start your own business."
–Safiyyah, Independent Beauty Consultant
"Fully utilize the career services center at your school. Most help alumni, not only current students. Develop a great LinkedIn profile, and connect with people you know. Let your network know what type of role you'd like, and ask them to watch for openings that might be a fit."
–Emily, HR Business Partner
"Talk to everyone. They might not be in a position to help you get where you want but they may know someone. And using that personal connection i.e. 'Hey my friend so and so said you are in Marketing and I'd like to pick your brain about getting into the industry or if you've heard of any job openings…' "
–Jonathan, Business Professional
"Choose the job you like; love the job you chose."
–Daisy, HR Specialist
"Network with different people in several organizations. Try to establish your brand as soon as you can and most importantly have sponsors in the form of mentors and coaches who can help you connect with the right people and promote your brand. Having sponsors in different companies and functions helps."
–Sidrah, HR Specialist
"Recent grads [often] want to work for the big names – granted those companies present great opportunities, [but] be open minded and explore the small [to] mid-size companies too– many are named best employers year over year. You could be missing out!
Also, if your mind is set on landing X salary and X title, in reality it may take time and hard work to land your dream job so enjoy the journey and [know that] each role presents learning and transferrable skills.
Lastly, people all the time reach out saying 'help me find a job'. Recruiters/HR are always happy to help but a little more context when reaching out, [e.g.] what are you looking for, etc. to help the recruiter or contact have a benchmark of what you are wanting or looking for [is helpful]."
–Meghan, Recruiter
Key Takeaways
Network, network, network. Tell everyone you know that you are looking for a job, so that they can keep their eyes open for any opportunities that may be the right fit for you.
Don't be too picky – you will probably have to lower your expectations about your first job. Caveat: don't be overly desperate. You may have to settle for a job you're overqualified for.
But, ideally, that position will still offer you the opportunity to learn new skills that can be applied to future positions. If you find yourself in a position where 100% of your time is spent filing, for example, you may not be learning much.
Try to give yourself time to figure out what you really want as well.  You might find the best software engineer jobs appealing right after giving it some decent time to think about.
Don't take rejection personally. Keep applying. You might be competing against hundreds of applicants for each position, and not every job will be the right fit for you. It gets discouraging, but you will find a job. Never give up!