If you're new here, I post an update every couple of months that details how we're doing on our debt payoff and other goals. I also include some highlights of the months and what I've been reading and watching…because life is about more than just achieving goals.
As a Type A person (with debt), I easily get caught up in trying to be productive all the time. It's important to relax once in a while 🙂
*This post contains affiliate links. Read our full disclosure policy here.
March and April have been eventful to say the least.  March started off with a bang.  I got very sick with a terrible stomach virus, and shortly after that our cat was diagnosed with kidney disease… less than a month after we lost our other cat to the same disease.
Needless to say, the vet bills were expensive so I made less progress on my student loans than I had planned to.
On a more positive note, my hubby, who has been working as a contract Web Designer for the past 2.5 years, was offered a permanent Senior Marketing Specialist position.  This will be a huge help to us financially as the job change came with a pay increase and he now has access to benefits (medical/dental/PTO).
Private insurance is INSANELY expensive (he was paying $380/month for lousy insurance) and as a contractor, he didn't get paid for vacation/sick days or holidays.
Anyway, here are my successes, lessons, and highlights for March and April.
Frugal Successes
–Debt payoff: I unfortunately didn't put anything extra toward my loans in March due to the expensive vet bills, helping my parents to pay for a new washing machine, and some other unexpected expenses.  I put an extra $2,000 toward my loans in April (this is on top of my regular $515 monthly payment).
When I first started paying on my loans, my payment was about $860/month but I've paid down my balance enough that the minimum payment has decreased to $515…which frees up more money to put toward extra payments.  This is how the debt snowball works.
–Blogging: My traffic is down a little bit from where it was in January/February, but that's no surprise.  Traffic to personal finance websites peaks in January (New Year's resolutions time), and January was when I finally buckled down on my Pinterest strategy using Boardbooster (more on that soon).
In March, I had endless issues with Pinterest and didn't pin much of anything, so it figures that my traffic went down a bit.  It was only a slight dip and I'm confident that I can get it back up – I'm going to be focusing on Pinterest (since I installed the Social Warfare plugin, I'm no longer having issues) and guest posting on other websites.  These are the two methods I have found that work best for me.
I'm hoping to increase my traffic as much as possible so that I can also increase my blogging income (which goes straight to my student loans).  If you're interested in starting your own money making blog, I created a free step-by-step guide that walks you through exactly how to set up a blog.
Frugal Lessons
–Frugality:  I attended free holy yoga classes 1-2x per week.
–Spending ban: I did a decent job of sticking with my spending ban for the most part.  If you're new here, I'm currently on a three year spending ban while the hubby and I pay off six figures of student loan debt.  I know this sounds crazy to some people, but to me, it'll be worth it when we're debt-free.
Frugality comes naturally to me, but over the past few months, I've slipped up a bit when it comes to getting food at work or buying fast food.  It's harder to maintain willpower when you're stressed (there have been psychological studies done on this).
The day my cat (my favorite pet) passed away, I treated my hubby and myself to a fast food meal and then I considered buying myself a new t-shirt despite my spending ban and the fact that I had already spent $600 at the vet.
When I was looking at the t-shirt, I asked myself "Do I really want this t-shirt or do I want it because I'm sad?" and then I put the shirt back on the rack and walked out of the store.
I had recently read an article on Cait Flanders' website (one of my favorite blogs about minimalism) called Treating Yourself is Not the Answer and it struck a chord with me.  When we're feeling sad or stressed, we often want to "treat" ourselves with junk food, alcohol, or buying stuff.
The reasons why we do this are explained well in Simon Sinek's Ted Talk Why Leaders Eat Last.  Essentially, when we're feeling down, we want a dopamine hit.  Eating junk food, shopping, or drinking might give us a jolt of dopamine and make us feel a little better temporarily, but it doesn't last.
As Cait explains, the only way out is through.  We have to face the problems in our life and feel the emotions, no matter how uncomfortable they may be.  Instead of treating ourselves, we should be taking care of ourselves.  There are healthy ways to increase dopamine – like exercising, chatting with a friend, or listening to music.
Highlights of the Months
-Our pug puppy turned 1!  …and we had a birthday party for him… yes, really :)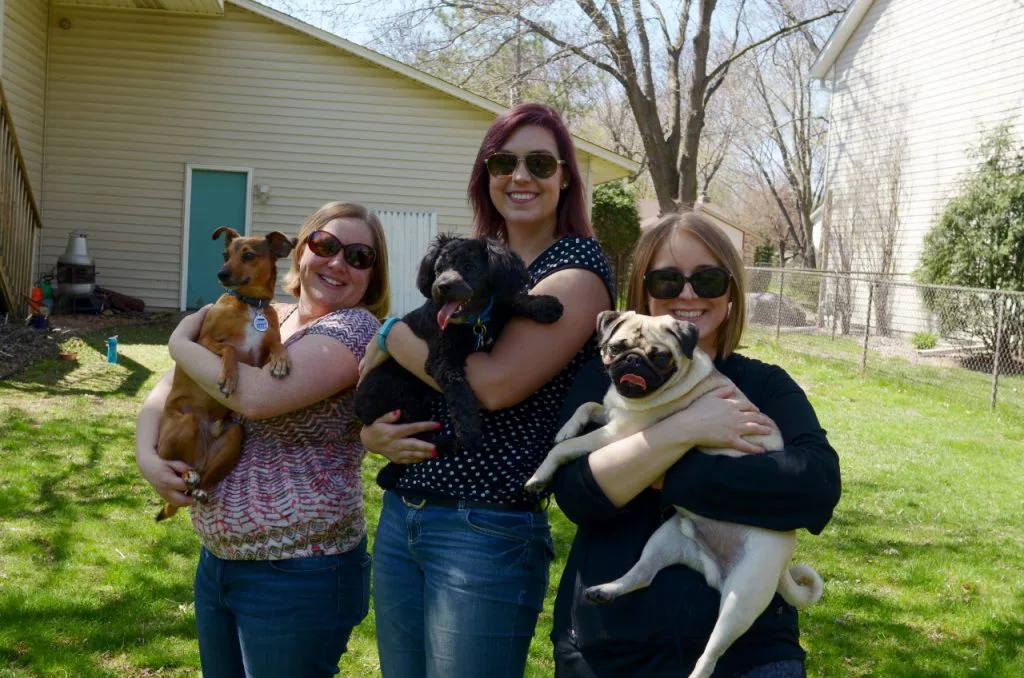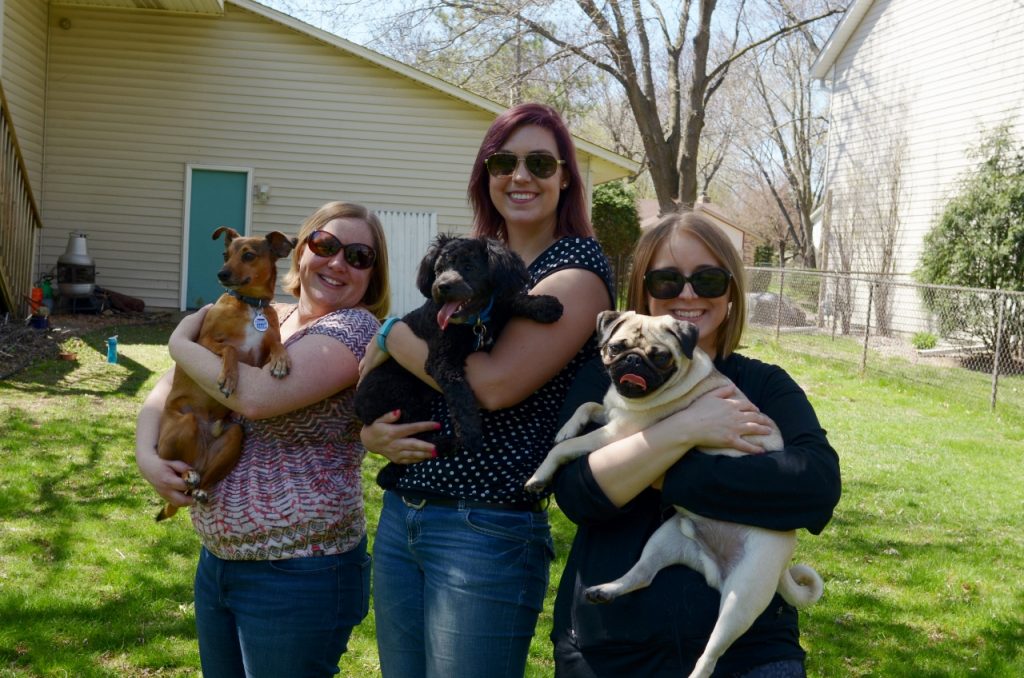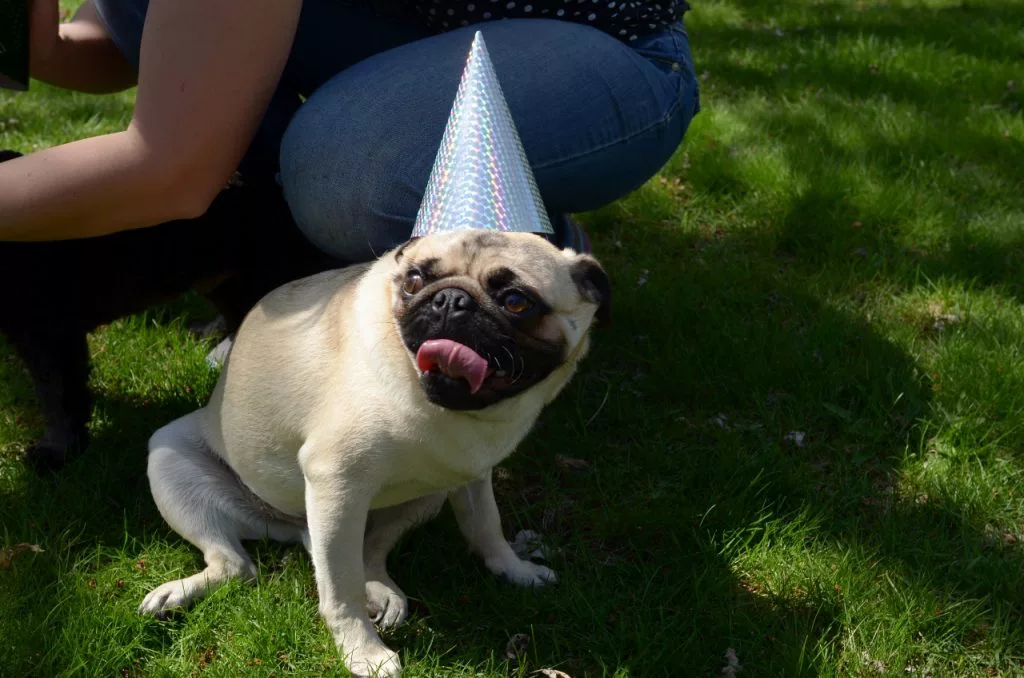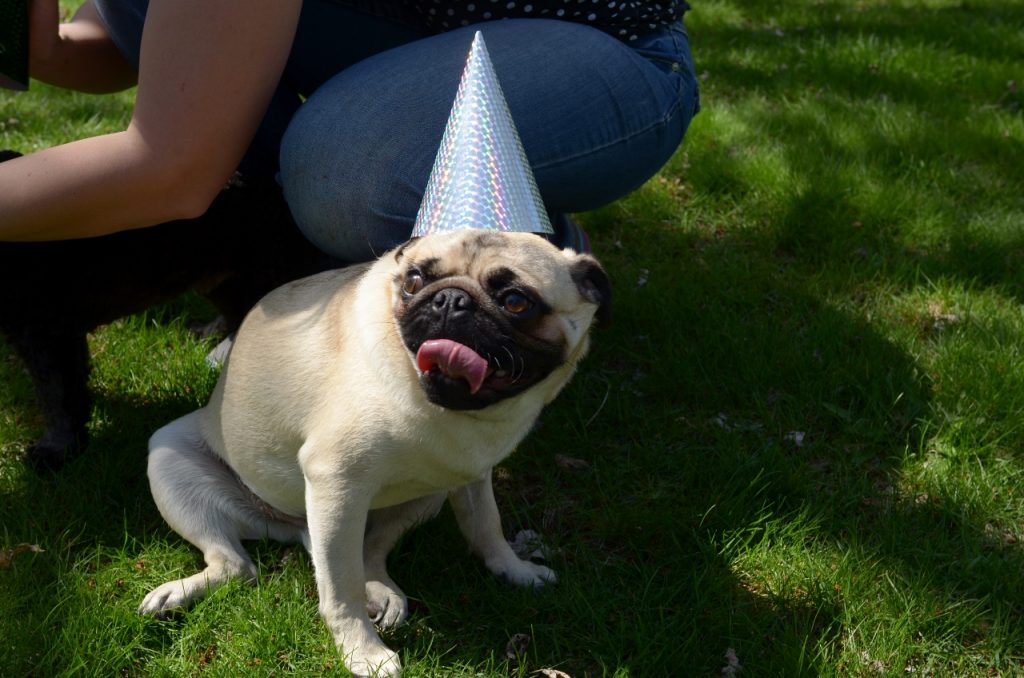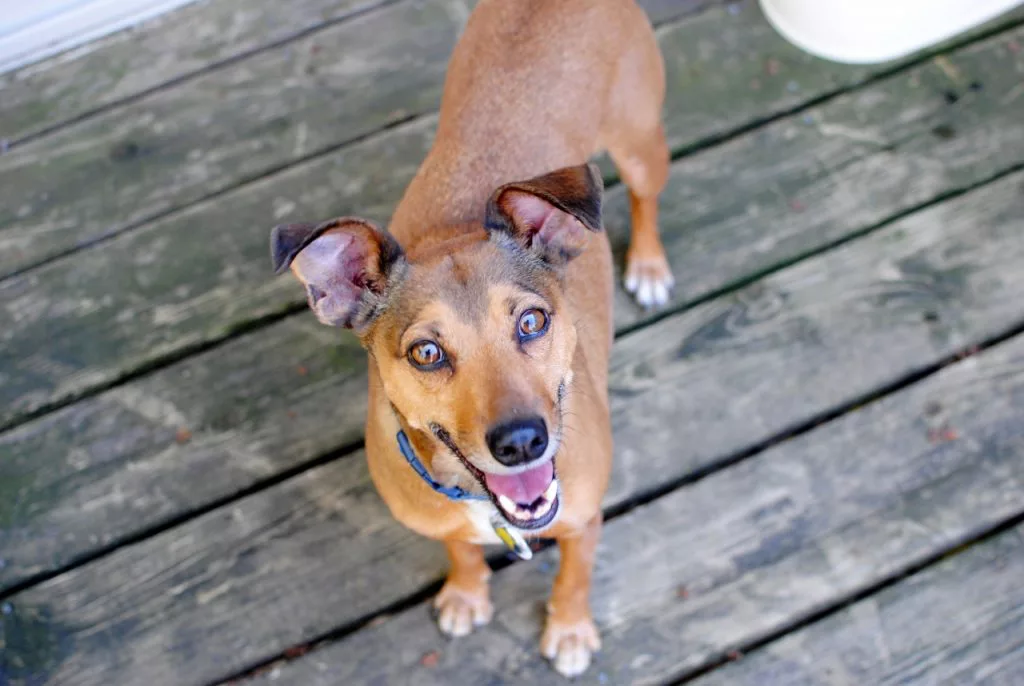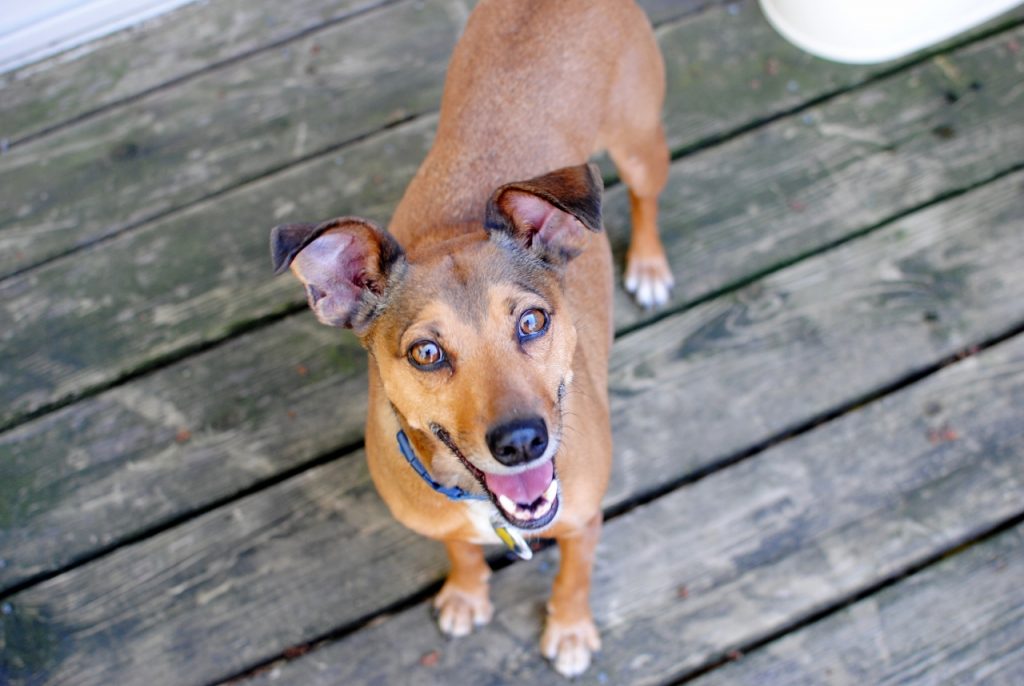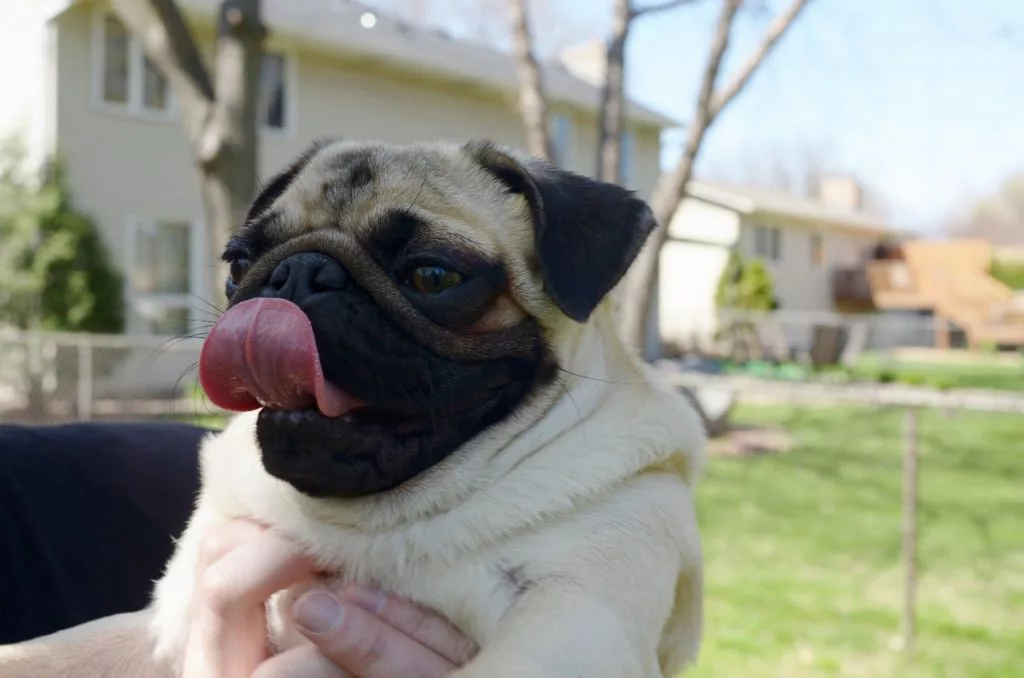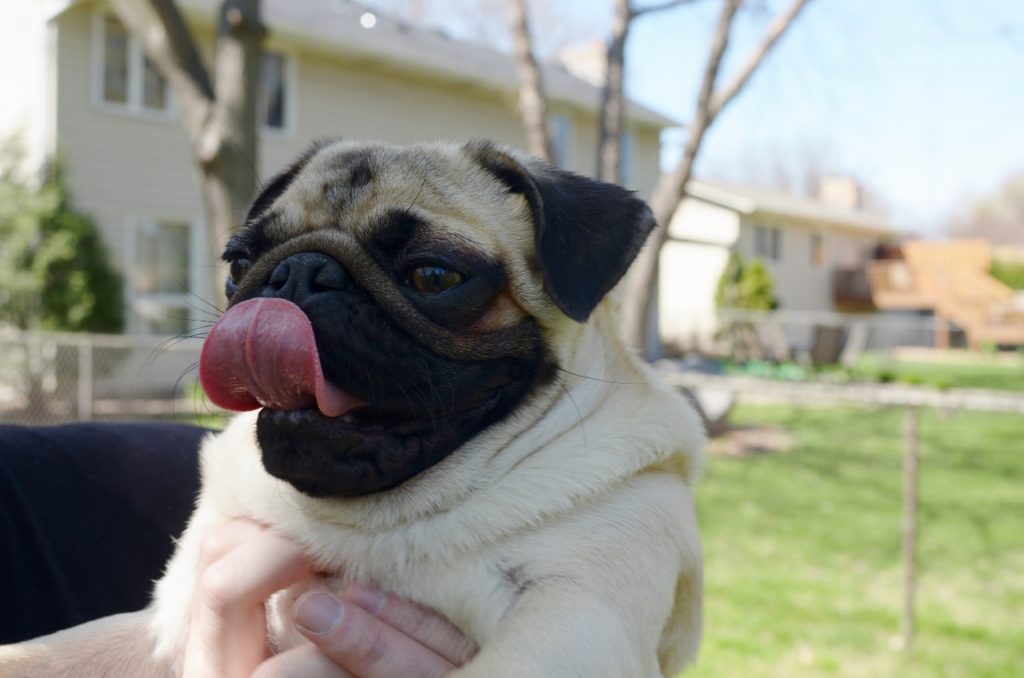 -The hubby and I also recently attended Dave Ramsey's Money & Marriage event in Minneapolis.  I had mixed feelings about the event…you can read my thoughts about it here.
What I Read/Watched
I finished Switched at Birth (a drama about two teenagers who lead drastically different lives and find out they were accidentally switched at birth) and started the Canadian science fiction show Orphan Black (one of the characters works at my alma mater, which is pretty cool).
I also watched the new seasons of Grace and Frankie (a hilarious comedy about two 70 year old women who find out that their husbands are leaving them…for each other), Crazy Ex-Girlfriend (a decent musical comedy about an unstable woman who follows her ex-boyfriend across the country to try to win him back), and Better Call Saul (a spin-off of Breaking Bad).
I started reading #GirlBoss by Sophia Amuroso, the founder and CEO of clothing company Nasty Gal.  She started off as a dumpster diver, began a vintage clothing shop on eBay, and it took off.  Nasty Gal now employs hundreds of people and brings in millions of dollars in revenue each year.  It's been an interesting read so far!
ICYMI
-Guest posts: I shared the good, the bad, and the expensive aspects of owning a pug puppy on The Financial Diet.
-On FM:
3 Reasons Why Student Loans are NOT "Good" Debt
My Winter Survival Kit
(Dave Ramsey's) Money & Marriage Event: A Review
I Deserve a New Car, Right?
The Solution to the Student Loan Crisis
How is your spring going?
Other stuff you might like:
My Personal Finance "Aha" Moment
How We're Preparing Financially for a Pug Puppy
Why I'm Grateful for My Student Loan Debt
The Appeal of Minimalism
9 Ways to Get Free Yoga Classes
Personal Finance Resources:
The Total Money Makeover by Dave Ramsey
YOLO: The Roadmap to Financial Wellness and a Purposeful Life by Jason Vitug
Smart Women Finish Rich by David Bach
It's Only Money and It Does Grow on Trees by Cara MacMillan
Blogging Resources:
How to Blog for Profit Without Selling Your Soul by Ruth Soukup
365 Blog Topic Ideas for the Lifestyle Blogger Who Has Nothing to Write About by Dana Fox
Secrets to Blogging Your Way to a Six Figure Income by ProBlogger