On this blog, I've shared budget wedding tips, and general tips for weddings…but I haven't shared my own wedding yet!
Ben and I got married on a beautiful fall day at the Minneapolis Sculpture Garden.  Keep reading for a breakdown of our entire budget and tips for how to save money on your own wedding!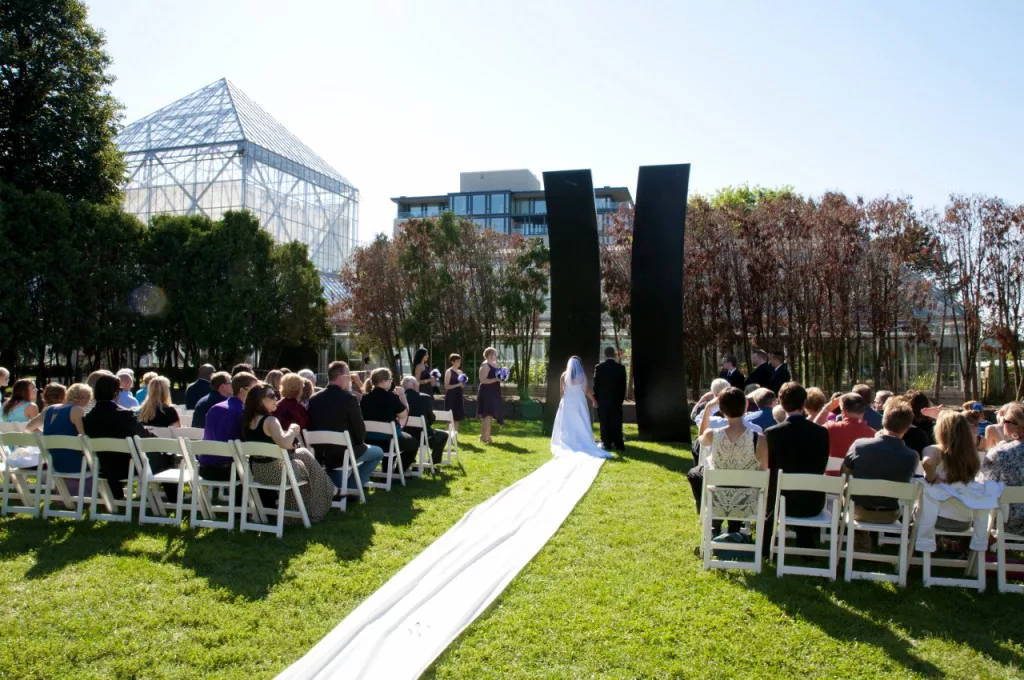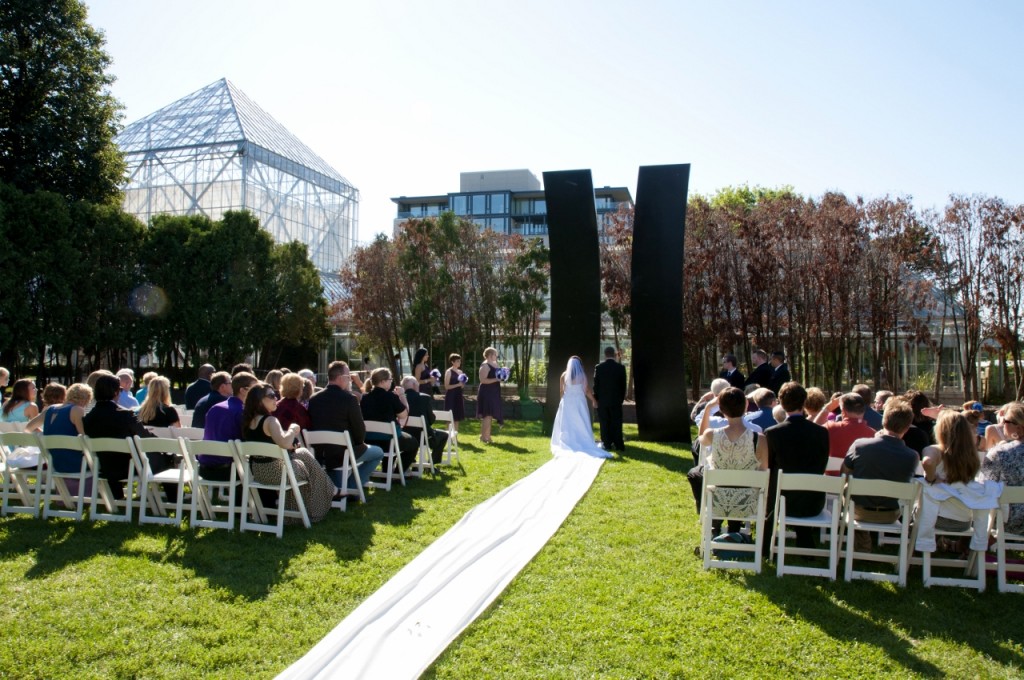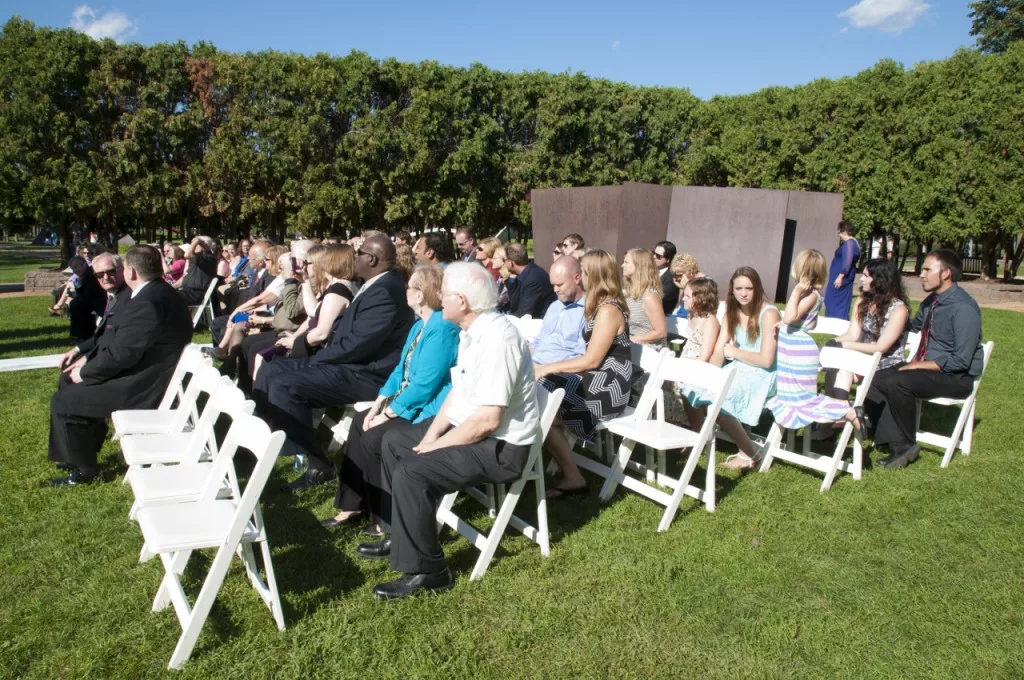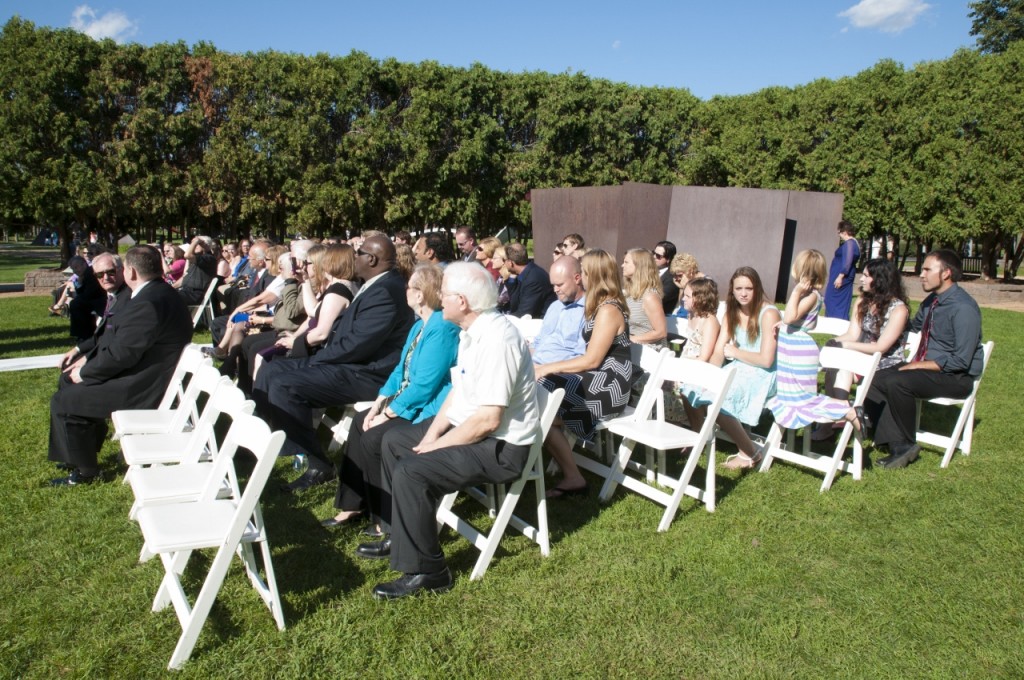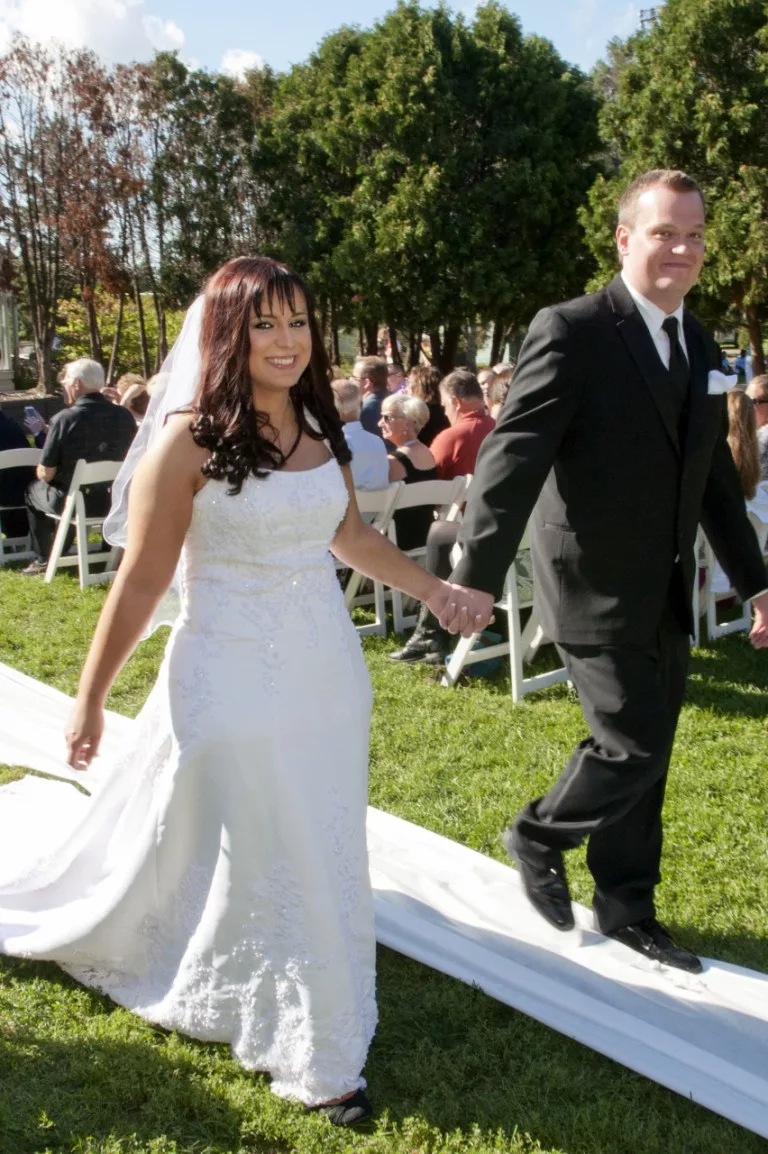 Our Wedding
Ben and I were married on 9/6/2014.  Our ceremony was at the Minneapolis Sculpture Garden and the reception was held at Chanhassen Dinner Theatres.  We had about 100 guests – the perfect amount, in my opinion – not too big or too small!
Our Budget
We had planned to limit the budget to $10,000, but it ended up being about $12,140 total.
$7,000 – All-inclusive wedding package (reception venue rental, food, alcohol, cake, DJ, security, tablecloths, silverware, gratuity)
$600 – Ceremony venue rental
$800 – Chairs for ceremony
$200 – Audio equipment for ceremony
$1,200 – Photography and open photo booth
$600 – Dress ($400 for the dress itself, $200 for alterations)
Free – Bustling of dress (my mom did this for me)
$400 – Hair and makeup
$200 – Tuxedo
$500 – Flowers, decorations, and other supplies (ring bearer pillow, veil, flower girl basket, vases)
Free – Transportation (we drove my husband's car)
$100 – Invitations
$400 – Officiant services
$140 – Dance Lessons
Personalized Details
I love the infinity symbol, so I incorporated that symbol in a few things – my ring, my necklace, the bridesmaid gifts (bracelets) and my garter.  We also had a slideshow of photos of us play at the reception during cocktail hour.  I love that these little details made our day more personal.
I also love that my husband created our wedding invitations.  He's a graphic designer, so he was able to design the invites for free (the only cost to us was the paper), and they looked amazing!  It gave the invitations a personal touch.
How We Saved Money
The biggest thing we did to save money was choosing an all-inclusive wedding package.  When I saw the $7,000 price tag at Chanhassen Dinner Theatres, I was hesitant at first.  Once I realized how many things were included in that $7,000, I realized that it was actually an awesome deal.  Many venues in our area charge $8,000+ for the food alone (which is totally insane to me!).
Our Biggest Sacrifice to Save Money
I would say the biggest sacrifice was skipping certain traditional items – instead of trying to find cheaper ways to include those items, we just skipped them entirely.  We skipped chair covers, a champagne pour (which would've been $700), favors, bubbles/sparklers/etc, a candy buffet, a limo or other fancy car, and videography.
My Advice to Others
Don't have an outdoor wedding!  It seems cheaper because the cost to rent the space is lower, but there are extra costs you wouldn't have for an indoor wedding.  I was amazed that the chairs were $800!  We had already booked the ceremony space, so it was too late to back out by the time we realized how expensive the chairs would be.  We also had to rent audio equipment for the song that was played during my walk down the aisle.  $200 is a lot to spend for a 30-second walk!
Our Biggest Splurge
The biggest splurge was photography.  We seriously considered having friends do the photography because photography is such an expensive part of the wedding.  We decided that it would be worthwhile to hire a professional photographer who had extensive experience photographing weddings.  The one thing that you will have after your wedding day is the photos, so it's important that those turn out well.
Luckily, we were able to find a budget-friendly photographer who charged only $1,000 for a package, which is very inexpensive compared to other photographers in our area.  She offered an open photo booth for $100/hour, so we decided to have the photo booth for two hours.  It was a ton of fun and it was totally worth it!  An actual physical photo booth (not an "open" one) is usually very expensive (the ones I looked at were close to $1,000).
Another area I splurged on was my hair and makeup – I felt it was worth it to splurge on that.  I have very thin hair, so I spent $100 on clip-in hair extensions.  It may seem silly to others, but I love the way my hair looks in the wedding photos.
If you're local, check out these vendors!
Reception: Chanhassen Dinner Theatres
Ceremony: Minneapolis Sculpture Garden 
First Photography: Studio Delphianblue 
Second Photography – my friend Megan Marti
Cake: Buttercream Cakes and Desserts (the best cake I've ever had!)
Dance Lessons: Ballroom and Wedding Dance Studio
Chairs for Ceremony: Apres Party and Tent Rental