My husband and I got married outside at the Minneapolis Sculpture Garden on a gorgeous fall day.  The wedding was beautiful, but if I could do it all over again, I probably wouldn't have an outdoor wedding.  Here are some of the pros and cons of having an outdoor wedding.
Natural Lighting for Photos
I decided to have an outdoor wedding for two main reasons: I believed it would be less expensive (it wasn't), and I thought the lighting would be better for photos (this was somewhat accurate).  I vastly prefer natural lighting over indoor lighting, and I thought the photos would turn out much better outside.  The photos that were taken in the shade turned out lovely, but we got married on a bright, sunny day.  Some of the photos are overexposed due to the bright sunlight, and we're also squinting in many of the photos.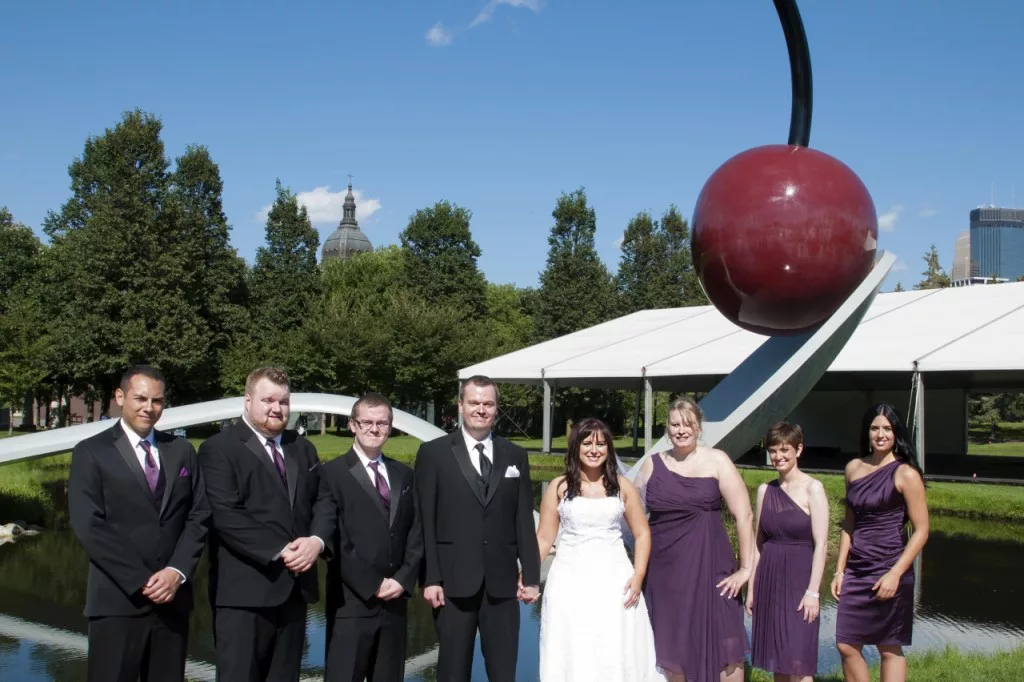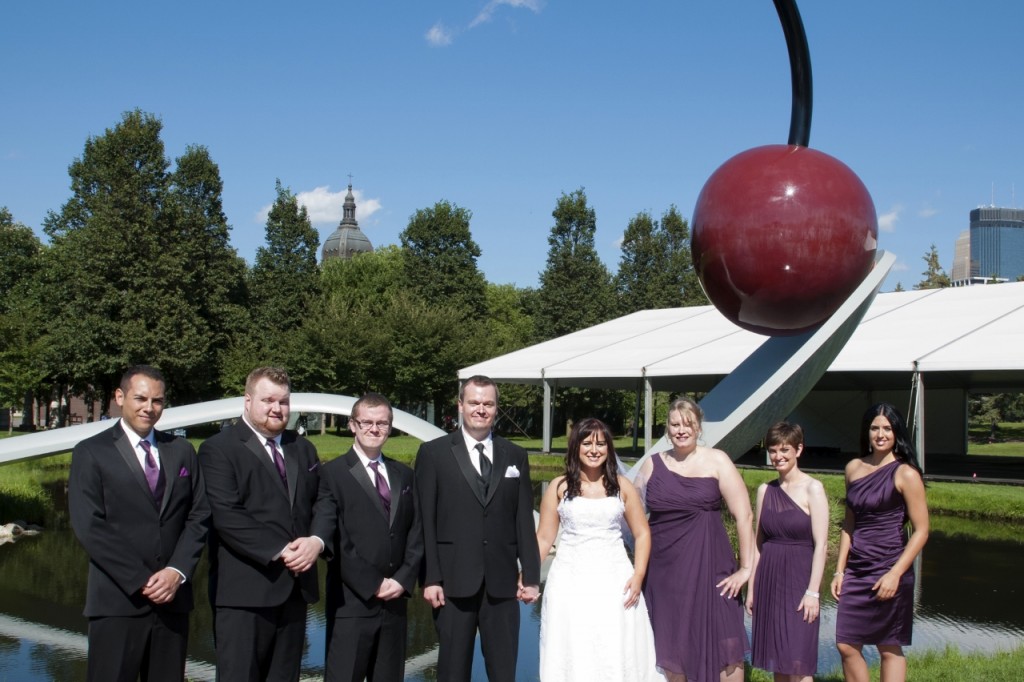 Pretty or Interesting Location
Getting married in a garden was certainly pretty.  My dream outdoor wedding would've been at an arboretum filled with flowers, but a wedding ceremony with 100+ guests at such a location would cost several thousand dollars (no surprise there).  Our wedding venue was a little different – since we got married at a sculpture garden, we were surrounded by art instead of flowers.  My husband is a designer and we both love art, so this was a good choice for us.  The sculptures also made for some interesting, unique photos.
Getting married outside is a bit different from an indoor wedding.  I felt it seemed more relaxed and laidback.  It wasn't a casual wedding (guests were dressed up, and our reception venue was formal).  I liked that we got to experience both – a laid-back ceremony and a formal reception.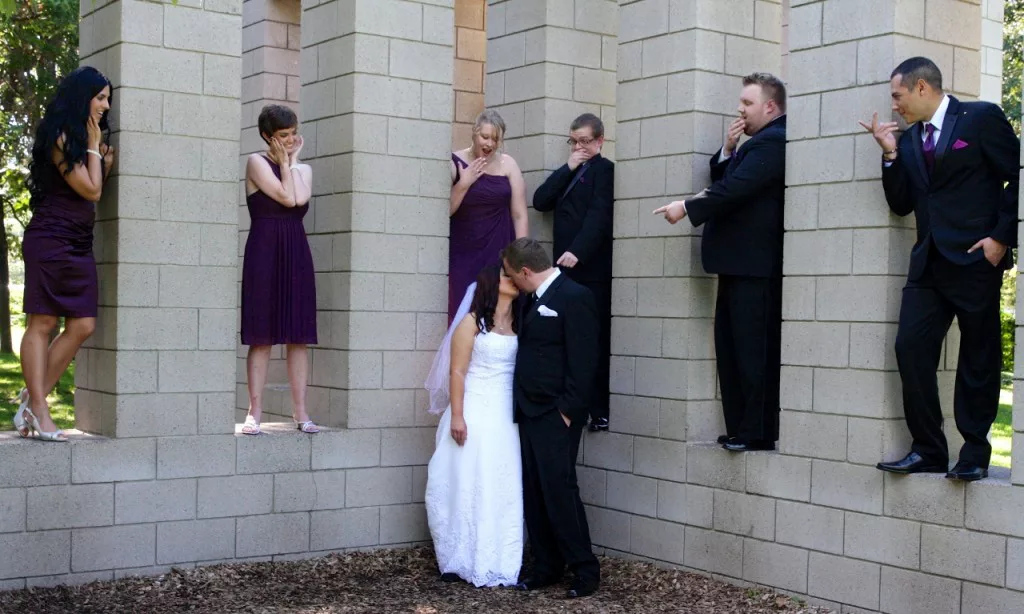 Risk of Bad Weather
We got married in September, and we were truly lucky with the weather.  It was 75 degrees, sunny, and just beautiful.  We knew we were taking a big risk by having an outdoor wedding – it could have rained (the week before the wedding, rain was predicted and I was super nervous).  Luckily, we had two back-up options.  The sculpture garden has an indoor area that can be used as a back-up (there's no additional cost to use the space in case of rain).  The drawback is that the area is essentially a greenhouse and it's about 100 degrees and humid.
Our other back-up option was an area located at our reception site – if we had used the area, they would've charged us $200 to use the space.  The area was certainly unique!  We would've been married on a stage with our guests sitting in auditorium-style seats.
Neither of these back-up options were particularly appealing, and luckily, we didn't have to use either of them.  Still, it was important that we had back-up options and could still get married even if it did rain!
If you're planning to have your wedding outside, make sure you have a solid back-up plan and that you understand the costs involved.  Know that you will probably not be refunded any money if you have to move your wedding elsewhere (unless there is some sort of natural disaster like a hurricane).  Additionally, don't assume that a back-up option is included in your wedding package.
Hidden Costs
One of the main reasons why I decided to have an outdoor wedding was because I naively believed that it would be cheaper than having an indoor wedding.  The cost to rent the ceremony space was "cheap" – $600 for three hours.  I knew we would have to rent other things, like chairs and audio equipment, but I didn't realize how expensive those things would be.
I assumed that we could shop around and find a good deal, and I didn't know that the sculpture garden only had a couple of (expensive) vendors that they would allow us to work with.  We spent about $800-$900 on chairs ($4/chair plus set-up fees, take-down fees, delivery fees, and labor charges) and $200 on the audio equipment.  Throw in $400 for the officiant, and my "cheap" outdoor ceremony became $2,000.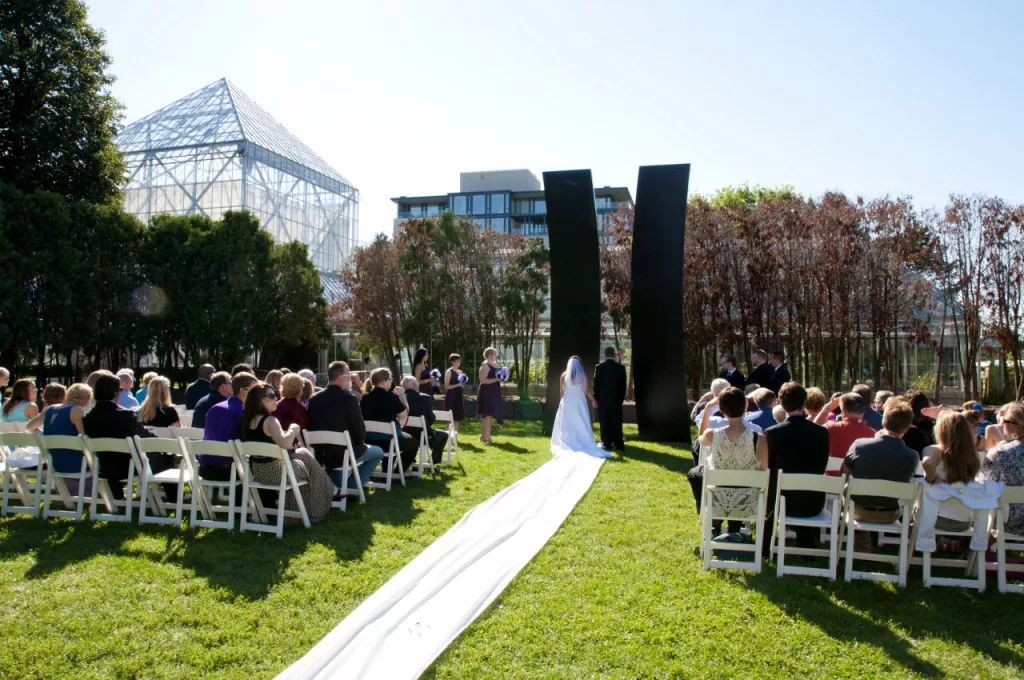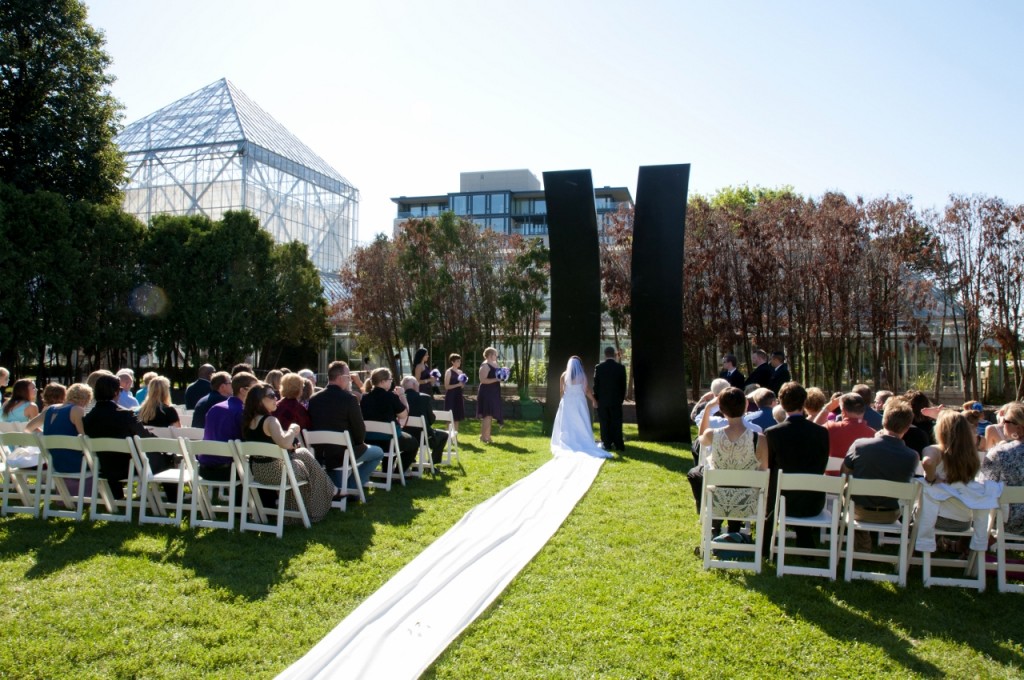 A Final Note
If the weather is nice, an outdoor wedding can be beautiful and the photos can be stunning.  The two main drawbacks (that I found) to having an outdoor wedding are the hidden costs and the risk of bad weather.
Did you have an outdoor wedding?  If you aren't married, would you consider having your future wedding ceremony or reception outdoors?