I LOVE HomeGoods.
My husband and I are planning to buy our first home in a few months, and there are tons of things we'll need to buy for our home. Luckily, we discovered HomeGoods…where we can find plenty of high quality items for a super low price!
*Note: This post is NOT in any way sponsored by, or affiliated with, HomeGoods.  All opinions are my own. 
HomeGoods offers 20-60% off brand name items, and shopping there is a unique experience.  I could probably spend all day walking through each of the aisles and taking it all in.  The merchandise changes often, so there's always plenty of new stuff to check out!
Here are five things I'll always buy at HomeGoods… and a couple of things I'd recommend skipping during your next shopping trip to HomeGoods.
Coasters
I'm always baffled by how expensive coasters are.  Even cheap looking coasters from Target can easily cost $3-$4 per coaster ($12-$16 for a set of 4).
In contrast, we bought eight beautiful, high quality coasters from HomeGoods for $15.  A much better deal!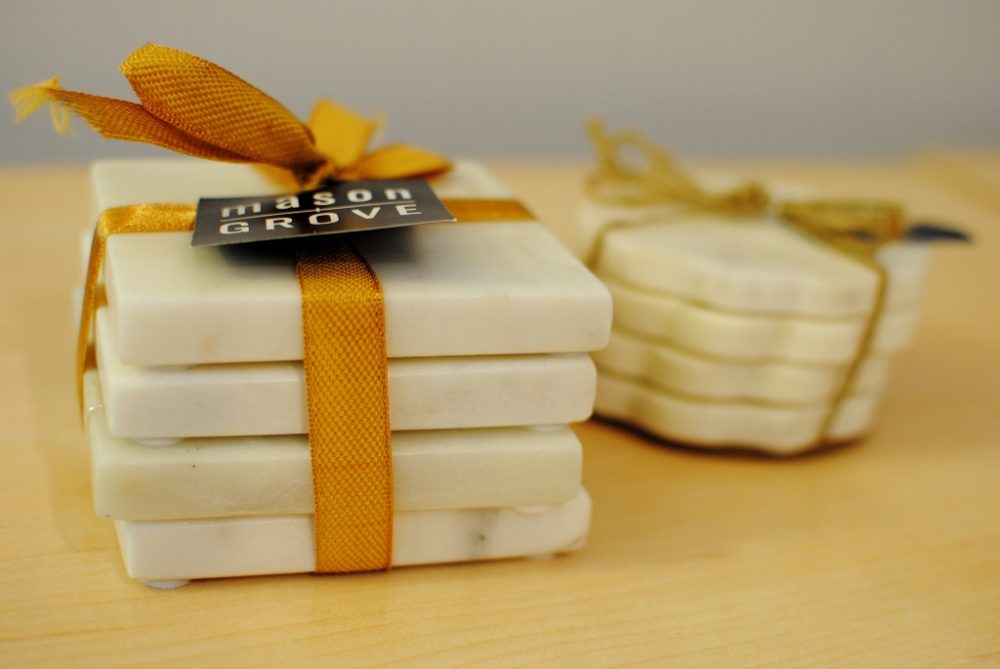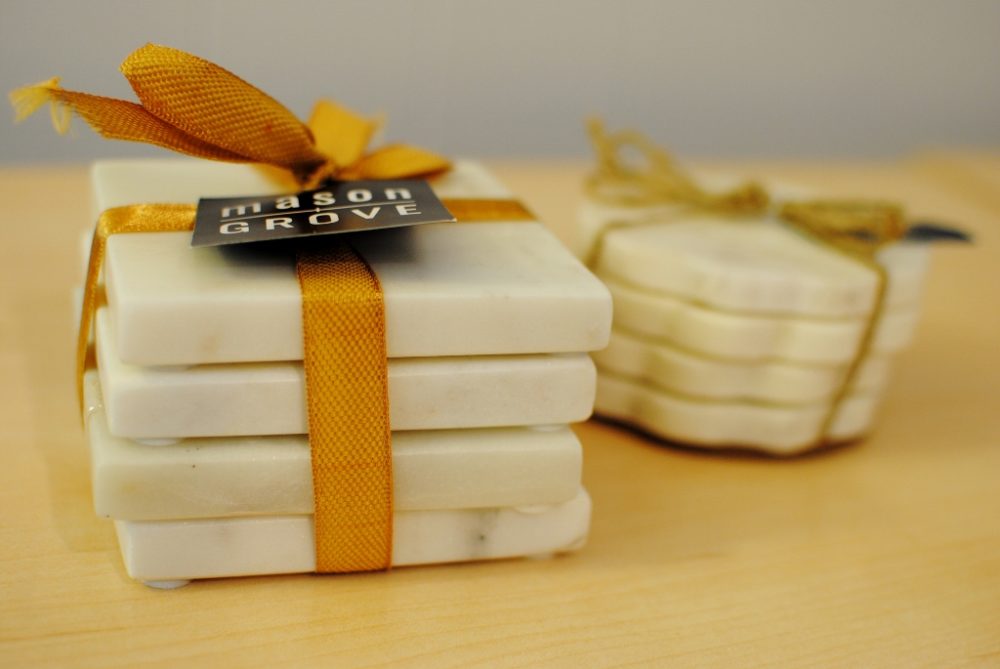 Kitchenware
From plate and bowl sets to utensils like wooden spoons, pizza cutters, and can openers, HomeGoods has it all…for much less than you'd pay at Target.  The quality is MUCH better at HomeGoods too.
An added bonus: HomeGoods' stuff is also prettier!
End Tables
While there are certain types of furniture I wouldn't buy at HomeGoods (more on that later in this post), I love their end tables!
They have plenty of them, but they're scattered across the store, so you'll have to hunt a little to find the one you want.  Also, pay close attention to the condition before you buy an end table.
HomeGoods offers dirt cheap prices, so it's no surprise that sometimes their items have minor imperfections or slight damage.  My husband and I found a beautiful end table we were considering buying until we realized that it had a crack in it.
We opted for this one instead, which has an outlet for charging a phone or laptop.  I love the modern, minimalist look!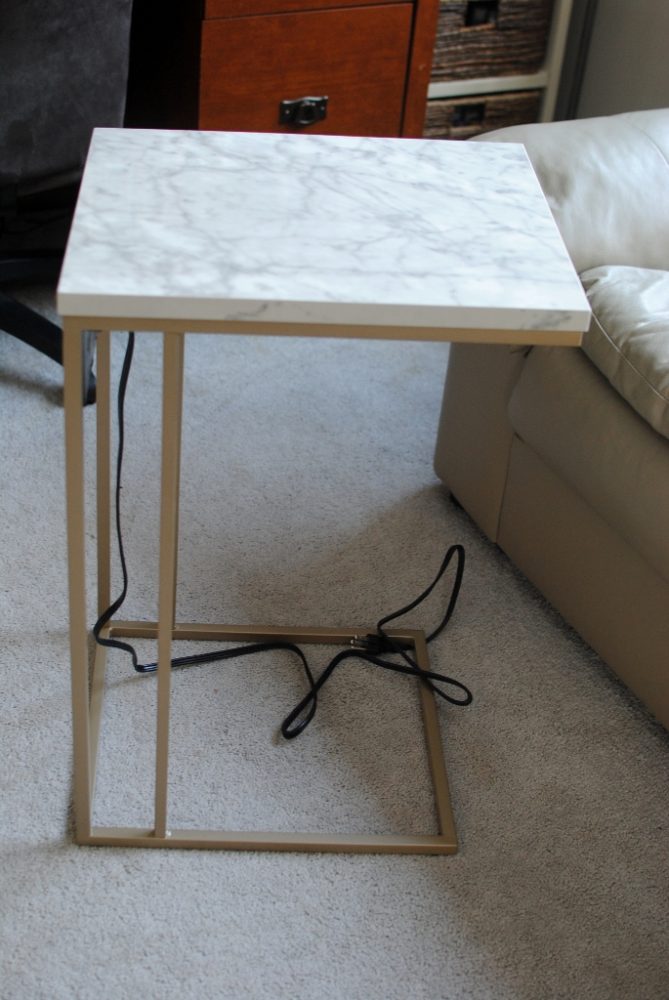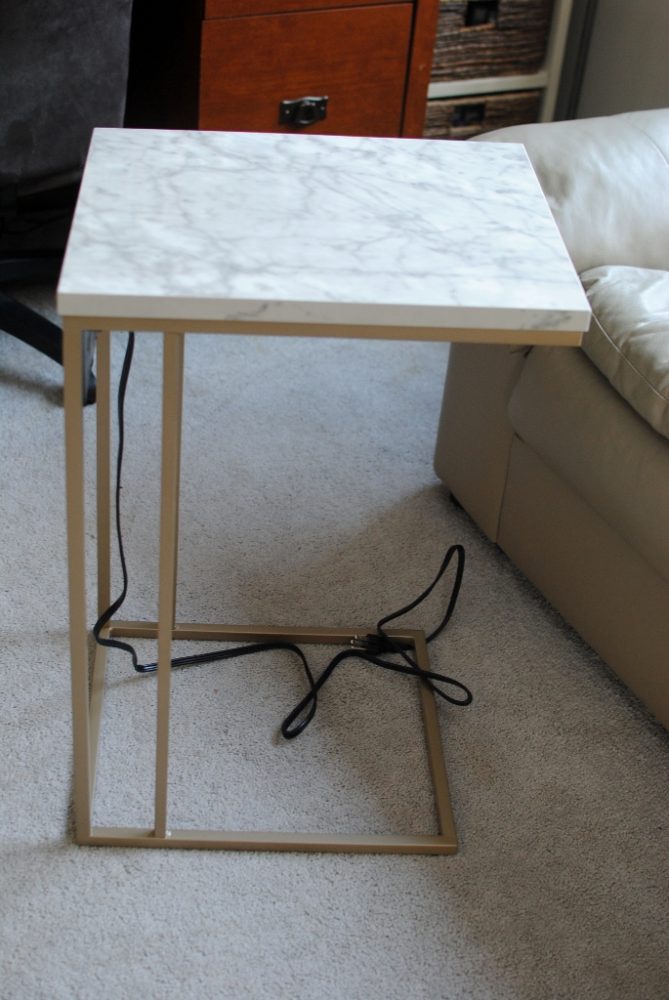 Baskets
HomeGoods has tons of baskets and bins to help you stay organized without breaking the bank.  They offer organizers at a cheaper price than Target and they're much sturdier than the $1 bins you'd find at The Dollar Tree.
I bought these to organize our bathroom drawers, and they work great!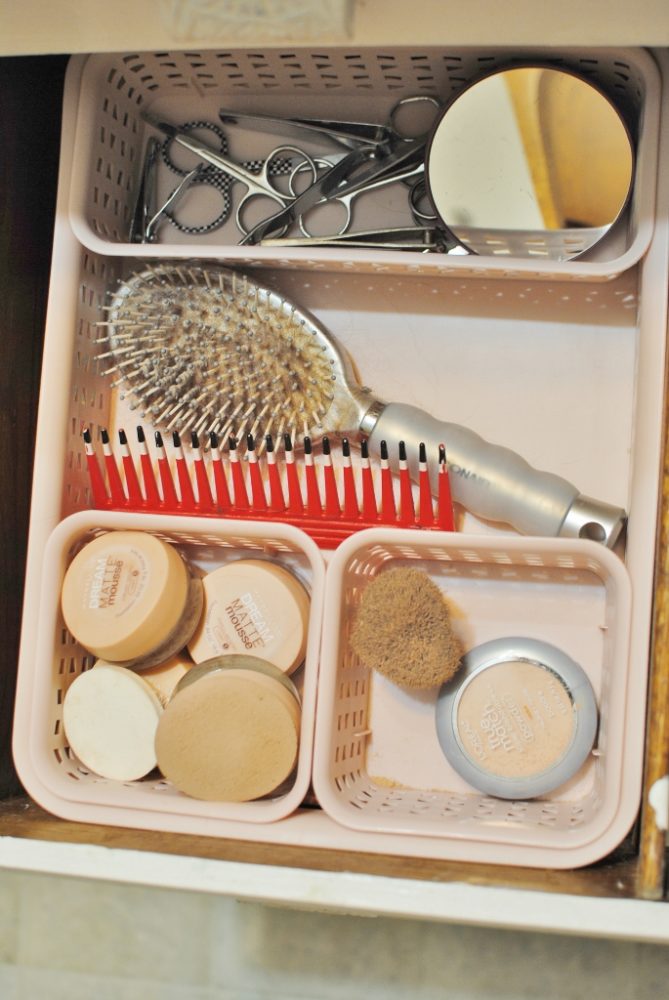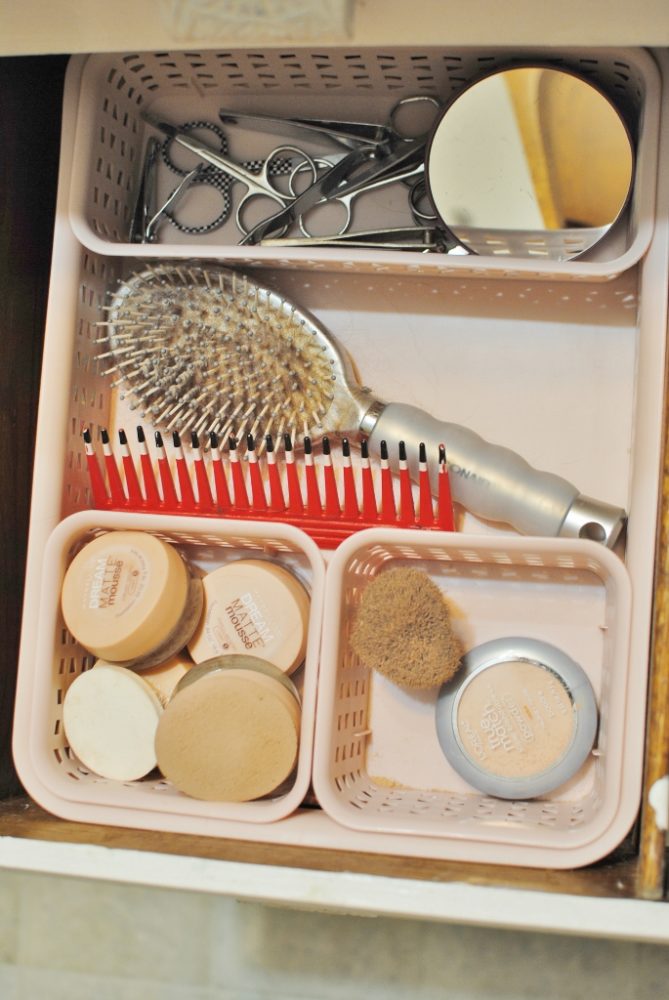 Art
I've actually read a lot of blog posts discouraging people from buying art at HomeGoods.  The general idea is that "cheap" art looks cheap and it's preferable to amass a more expensive art collection over a long period of time so you have high quality pieces.
There's certainly nothing wrong with that if that's what you'd prefer to do!  For me personally, I don't want to spend a lot of money on art.  I'd rather put that money toward retirement or fun experiences like traveling.
I also think that art doesn't have to be expensive to be meaningful.  I found this adorable pug painting at HomeGoods for only $15 and I LOVE it!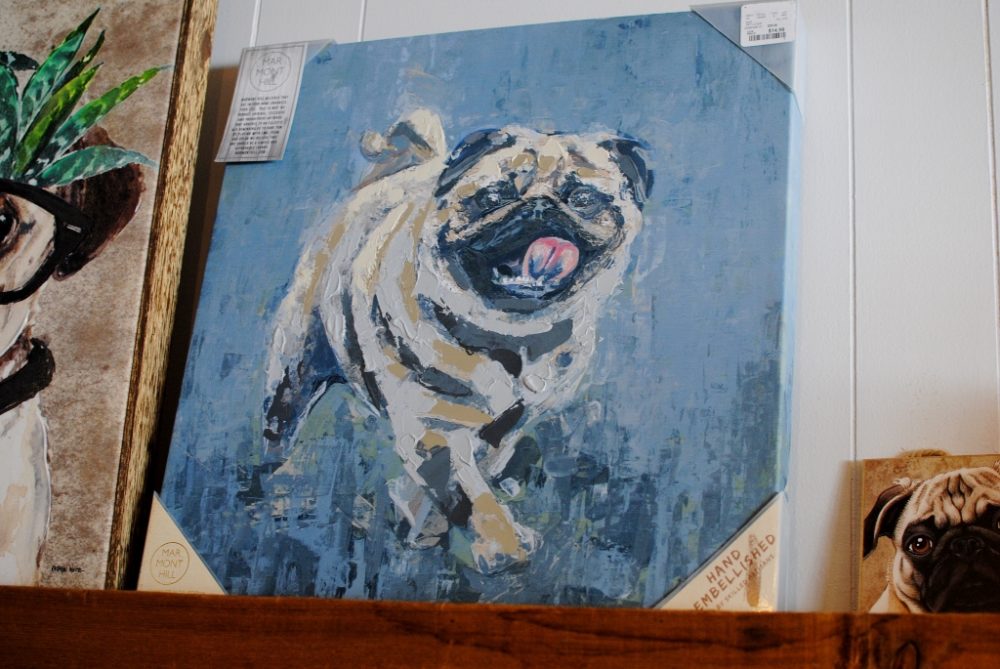 My mother-in-law loves giraffes, and we found a giraffe painting at HG for her Christmas present at a low price as well.
If you're looking for something nicer, HomeGoods does offer paintings in the $100-$300 range.  My mom is a bit of a HG addict, and here are three paintings she has incorporated into the decor of her home.  I think these look lovely.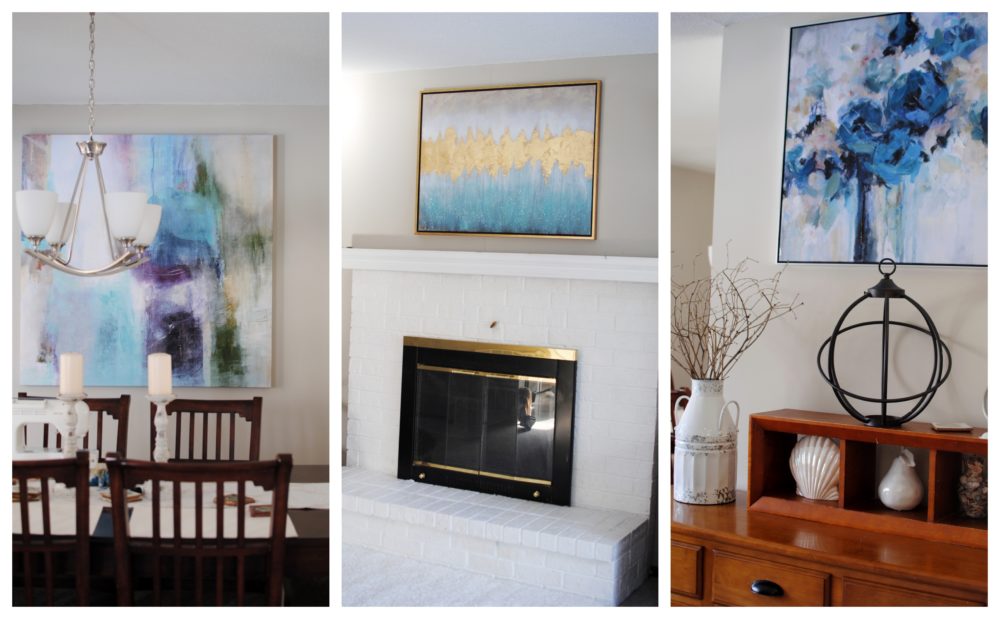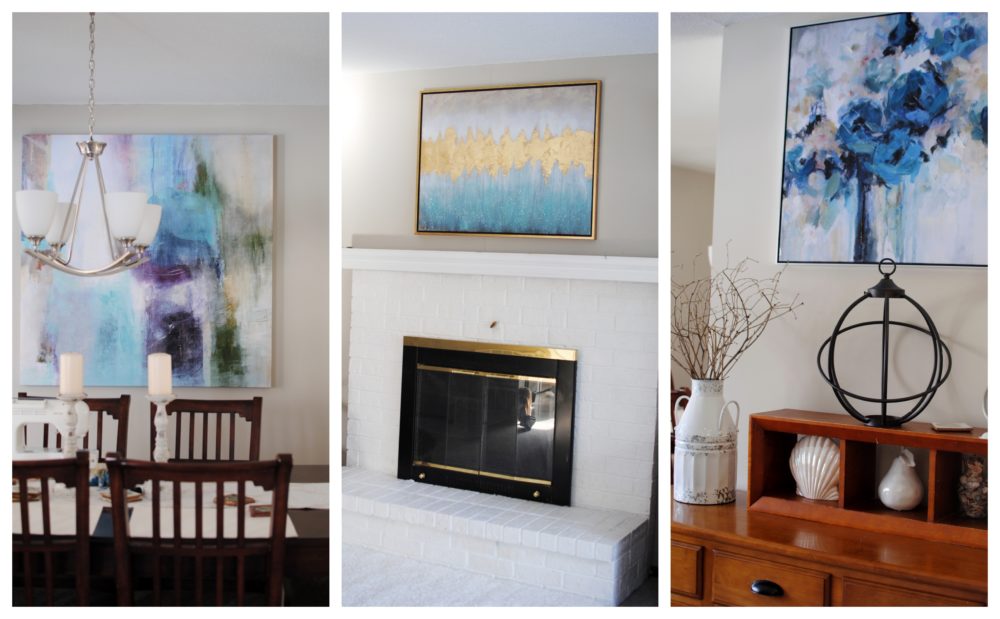 Things I'd Skip
As much as I love HomeGoods, there are certain things I wouldn't recommend buying there.
Bed Sheets
Most of the sheets at HG are made with synthetic fibers.  These may be pretty and cheap, but they're not breathable and they won't hold up well after being washed many times.
Investment Furniture
I'm fine with buying a small piece of furniture (like an end table) at HomeGoods, but I probably wouldn't buy more expensive furniture (like a couch or dresser) there.
I'm sure I could get a cheap price, but for something like that, I'd rather get something that doesn't have any imperfections and that I think will last for a long time.
Estate sales are a great way to find (originally expensive) barely used furniture for a great price.
Tips for Shopping HomeGoods Like a Pro
To find the best deals at HomeGoods, follow these tips:
Shop during the week (from Tuesday to Thursday).  It gets insanely crowded on weekends and they're usually a little low on stuff on Monday (when they're still restocking after the weekend rush).
Walk through every aisle so you don't miss anything. Their merchandise changes often, so you never know what you'll find!
Don't skip the clearance aisles.
Avoid disregarding an item just because of a minor imperfection.  If it's something you can easily fix yourself, it might be worth it and you can probably snag it for a dirt cheap price.
Check out the HomeGoods app!
What are your favorite things to buy at HomeGoods?