Debt Payoff
Prior Month: At the end of October, we bought new year-round tires for my car.  I've been warned many times by multiple different shops about how dangerous my tires are because they're so old and completely bald.
Unfortunately, having decent tires has to be a priority because we live in Minnesota…where winter often lasts 6 months.
We also decided to get new winter tires for my hubby's car.  He wanted to get new wheels as well so that he can change out the tires himself each year (instead of paying someone to do it).  When all was said and done, we spent about $1,800 total on tires/wheels.
We then added $500 to our emergency fund to get it back to $1,000.
November: In November, we paid $2,000 extra on my hubby's car loan for his Mini Cooper.  Because of the tires and the emergency fund, we didn't put nearly as much toward the car as we wanted to, but that's how it goes.
December: Our goal for December was a little crazy – we aimed to put $5,200 extra toward the car loan.
Keep in mind that this is only possible because December was a three paycheck month and we are pooling our money now so we can pay off our debt faster.  We hit our goal!  We only have about $1,900 left on the car loan so we should have it paid off by January. Then we can get back to focusing on paying off our student loans ASAP.
Saving Money
I started using Ebates which helped us to save money on our Christmas shopping. Ebates is a free website that allows you to earn up to 40% off of online purchases at many popular retail stores such as Kohl's, Toys R Us, Amazon, Macy's, Barnes and Noble, Lululemon, and Sephora.
You could even use Ebates for planning a trip – it includes cash back opportunities for websites like Travelocity and Groupon.
I also found out in November that my health insurance company has a program that allows its members to earn points which can be redeemed for gift cards and other items.
The best part is you can get points for doing things you already do – like tracking your steps with a FitBit or completing an annual physical, dental visit, or eye exam.
I earned enough points in November to get a $25 Amazon gift card.  Instead of blowing it on stuff I wouldn't normally buy, I used it to buy things I was planning to buy anyway – photo prints for my Project Life albums (at 9 cents per print!) and dog food for the pug.
This frees up another $25 to add to our debt snowball.  It might not seem like much, but the little things add up!
Health & Fitness
I'd like to lose 20 pounds…a few years ago, I lost 35 but I gained most of it back.  I didn't lose any weight during November and December but I also didn't gain, so I'll consider that a win.  I'm working hard on getting rid of some of the bad habits I slipped back into (snacking too much, eating processed snacks).
Over the past couple months, I've been going to holy yoga classes more often (I got lazy about this for a while) and I'm trying to get more steps in each day.  I used to average 8,000 steps per day, but I now average 10,000 steps per day (yay!).  I track this using my FitBit Flex.
Blogging
I love blogging.  It's something I'm passionate about, and it's a great way to make extra money on the side.  The money that I'm earning from blogging goes straight toward paying off our debt.  In September, my blogging income was at an all-time high!
But then in October, I saw a big dip in traffic. In November and December, things picked back up :) December tends to be the best month of the year for bloggers.
Everyone is always asking me how I make money blogging.  There are a myriad of ways to make money blogging, such as freelance writing, sponsored posts, affiliate marketing, ads, and digital products (like ebooks and courses).
The main way that I earn money is through sponsored posts.  With these, a company will pay me to post an article that has links to their websites.  Sponsored posts are a great way for smaller blogs to make money because they aren't dependent on the amount of traffic (page views) you have.
My second main source of blogging income comes from affiliate marketing.  I'll include a link to a product or service (an "affiliate link") in some of my posts, and if someone clicks on that link and makes a purchase, I earn a commission on the sale.  I would like to move away from doing sponsored posts and to make affiliate income my main source of blogging revenue.
The awesome thing about affiliates are that they're passive – you put in the work up front, but you can still make money off of affiliates later on…perhaps even years later!  This means that you could be making money while you're asleep or on vacation.
I'm excited to put more effort into affiliate marketing by using the strategies I learned in the class Making Sense of Affiliate Marketing.  Michelle is a master at affiliate marketing – she earns over $100,000 a month (yes, you read that correctly!) from her blog!
Recently, I was featured as one of The Top 50 Millennial Money Bloggers by Feedspot.  It's an honor to be featured along with some of my favorite bloggers who are such an inspiration to me!
Faith
I went to church every week, went to holy yoga classes often, and have been rereading the Bible on the She Reads Truth app.
Highlights of the Months
I also like to include a few highlights of the months in these updates…because life is about more than just reaching goals.
We tried an escape room for the first time for my husband's birthday and it was so much fun!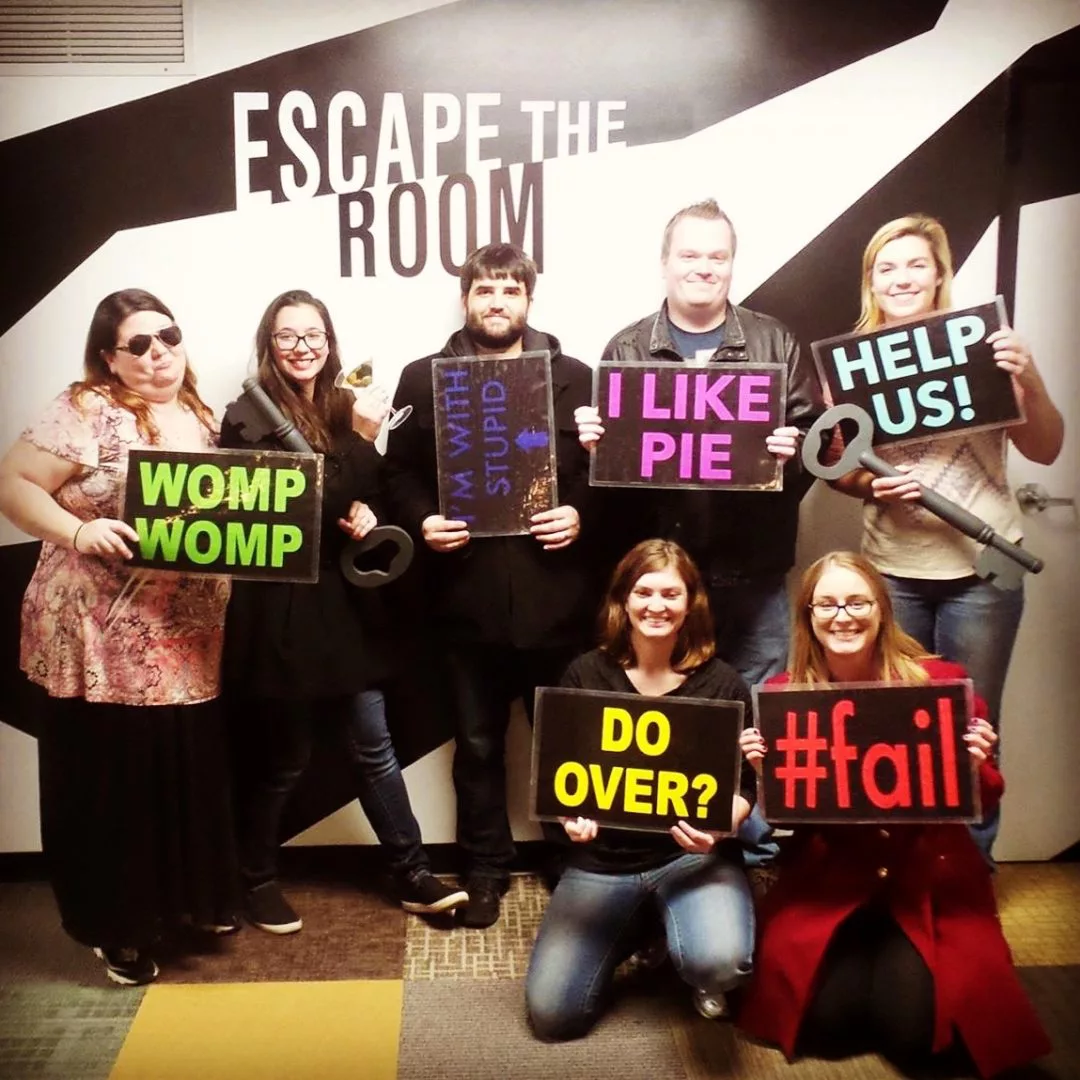 If you're not familiar with escape rooms, what happens is you're locked in a room for an hour while you and the rest of your group finds clues that lead to several keys.  Once you find all of the keys, you've won the game.
We also had a great time celebrating the holidays with family.
What I'm Watching
I watched these TV shows:
And these movies:
Note: these ratings are based on my completely subjective opinion.
An Honourable Woman was…not my favorite.  It was nominated for an Emmy, but it only has 1.5 stars on Netflix, which tells you something.
It's hard to follow at first, but eventually the pieces start coming together…yet there are still many plot holes and things that just don't make sense.  By the time I finished the show, I had more questions than answers.
I enjoyed Stranger Things.  It's a little odd (hence the name), but it's interesting and keeps you hooked.  Quantico is good too.  It's about an FBI agent who was framed for terrorism.  Ozark is interesting and the main character is a financial adviser so of course, I enjoy that part of the show :)
13 Reasons Why was as depressing as I expected it to be (if you're not familiar with this one, it's about a teenage girl who commits suicide and leaves behind 13 tapes that explain why she did it). That being said, I think it's definitely worth watching. It was much more thought provoking than I had thought it to be.
The Zookeeper's Wife and Megan Leavey were both great and I highly recommend both of them if you're an animal lover.  The Zookeeper's Wife is about a Polish couple who own a zoo and help hundreds of Jewish people escape from the Nazis during World War Two.
Megan Leavey centers around a marine who was deployed in Iraq and her special bond with an aggressive service dog.
Both of the movies are based on true stories.  Yes, there are some sad parts of both movies, but the animals are adorable and (spoiler alert!) both movies have happy endings.
What I'm Reading 
Best article I've read recently: The Intersection of "Me too" and Money – Broke Millennial
Best book I've read lately: Retire Inspired – Chris Hogan
In Case You Missed It
Popular posts for November/December:
4 Things to Know About Car Loans
Ebates Review: How to Earn Cash Back for Online Shopping
Frugal Tip: Don't Sign Anything You Don't Understand
Holiday Gift Guide for Pug Lovers
5 Ways to Save Money While Traveling
Guest posts on The Financial Diet:
5 Things I Do to Stay Sane While Paying Off Massive Debt
5 Things I've Never Regretted Splurging on Despite My Strict Budget
How is your winter going?
Want more? Download my free budgeting guide which includes a printable budget worksheet!
Next, read the personal finance book that changed my life: The Total Money Makeover by Dave Ramsey
Save